Chambal River Front – Quick Information
Chambal River Front Visit Timings
10 AM to 10 PM
Entry Closing Time
Entry will be closed at 8:30 PM
Ticket Price
₹200/person
₹100 for students
FREE Entry (You need to book a ticket of ₹0 online) – Find booking link below
Chambal Riverfront Open Zone
Booking is open for the Eastern Zone of Chambal River Front.
Entry Rule
– Government Photo Id is mandatory for Entry.
– No Entry without ticket.
Chambal Riverfront Entry Gate
Entry will start from 10.00 AM from Nayapura Ghat & Barrage Garden of East Side only.
Chambal River Cruise Price
₹1500/person(meals included)
E-Vehicle
₹50/person
Ticket Booking
Book Online Ticket
Things to Keep in Mind
– Touching the monuments is not allowed.
– No eatables allowed.
– Smoking not allowed.
✅ Avoid Confusion, Save Time: Above information is important for Riverfront visitors, please share this page. 👇
What is Chambal riverfront opening date?
Chambal riverfront is opening on 12 Sep, 2023 for all the people.
Deepika Padukone and Ranveer Singh, along with the entire Rajasthan cabinet, have been invited to the inauguration program.
Government in Rajasthan has also appointed Deepika & Ranveer as the brand ambassador for promoting tourism of Kota.
Things to do at Chambal riverfront, Kota
Go on a boat ride on the Chambal River.

Have a picnic in the garden.

Enjoy the water park with friends and family.

Take a walk along the waterfront.

Eat the delicious food at the food court.

Witness the mesmerizing sunset over the Chambal River.
---
Kota, a charismatic city of Rajasthan, lies on the bank of the Chambal River.
Kota is famous for Kota Doriya Sarees, Kota Stone and Kota Kachori.
Although Kota is also known as an educational hub of Rajasthan, now the government is making many constructions to promote tourism in Kota.
Oxyzone City Park and Kota Choupati is already a talk of town, but now another name is going to be added to it.
Yes, you heard it right!
The Chambal River Front Project, which is constructed between Kota Barrage to Nayapura Pulia on the Chambal River, is in the final stages.
This world-class heritage riverfront in Kota, being built at the cost of 1200 crores, is unique in itself.
And many records are also going to be established on this.
So let's know more about it in detail.
Ambiance that will delights you with Rajasthani Art
Chambal River Front will give you a glimpse of Rajasthan's royal heritage and architecture.
Three huge wide gates are built in different directions for the public entrance. Due to this, tourists will not have to travel around the city to enter the riverfront.
All three gates are decorated with different statues, architecture, cenotaphs and flower pots, which will surely mesmerize you.
Huge parking lots have been developed along all three gates for two-wheelers and four-wheelers.
Top Attractions At Chambal Riverfront
In the first phase, an area of 6 km is being prepared on both sides of the Chambal river.
Now let me tell you about the top attractions on the Chambal riverfront in Kota that will make it even more famous worldwide.
There is a long list of things which will surprise you.
So, let's explore them!
Musical Fountain
A total of 26 fountains are being built on the riverfront, which will attract tourists worldwide.
If we talk about the musical fountain, it is developed at Barrage Garden in Kota on the concept of the Magic Fountain of Barcelona, Spain.
It has 154 pumps as well as 9 types of effects.
Things to do
Restaurants, Hotels
Idol of Chambal Mata
There is an Idol of Chambal Mata made up of white marble near this musical fountain, of which there is a pipe of about half a diameter.
A pot will be installed on the top of that pipe from which water will flow. 5 pumps of 310 HP capacity will be installed in the huge statue of Chambal Mata.
Along with that, there is a Lagoon Fountain on the former site of the riverfront, in which 17 pumps of 370 HP and different types of lights are installed, whose work is also in the final stage.
Chambal Riverfront Bell
The world's largest bell will also be installed in the western zone of the Chambal riverfront.
Eight different metals are being used to make this bell.
Devendra Arya, who is making it, said- This bell is of single-piece casting.
That is, it will not be planted in pieces; rather, a single piece will be made.
It will be 30 feet high and 28 feet wide. Its weight is 72 tonnes.
Another special thing about this bell is that its pendulum will also be jointless.
Fact: Only China and Russia have such bells in the world. Of this, China's bell is 6 by 6 meters, and Russia's is 6 by 6.5 meters.
LED Garden
India's first LED garden has also been built here. Different elements will be made from LEDs like birds, plants and treesaaaa.
People will see LED elements instead of real birds, plants and trees.
So, these all will act like an LED show in a way.
What a splendid delight it would be for the eyes. Isn't it?
📰 Also Check: 10 Best Hotels in Kota
Nandi Statue
The biggest Nandi statue has been built in the western zone of the riverfront.
Right now, finishing work is in progress.
The idol of Nandi is made of Jodhpur stone.
According to UIT officials, the height of the Nandi statue is 6.5 meters, its length is 10.5 meters, and its width is 4.5 meters.
Temple structures have also been prepared in front of this statue, which will depict five different elements.
Fact: This is the biggest Nandi statue in the world.
JawaharLal Nehru Face Mask
On Jawaharlal Nehru Ghat you will see the face of India's first Prime Minister Jawaharlal Nehru.
There are a total of 26 different ghats on this riverfront which have been prepared on different themes.
The face mask is made up of metal and it is 12 meters high and 3 meters wide.
The special thing about this mask is that people will be able to go inside from the backside and from there they can see the view of the riverfront.
Free parking, Taxi service
Swimming pool, Breakfast
Bar & Lounge
World Heritage Zone
In the world heritage zone you will see nine famous world buildings that include Hawa Mehal of Jaipur, Red Fort and Zama masjid of Delhi and many others.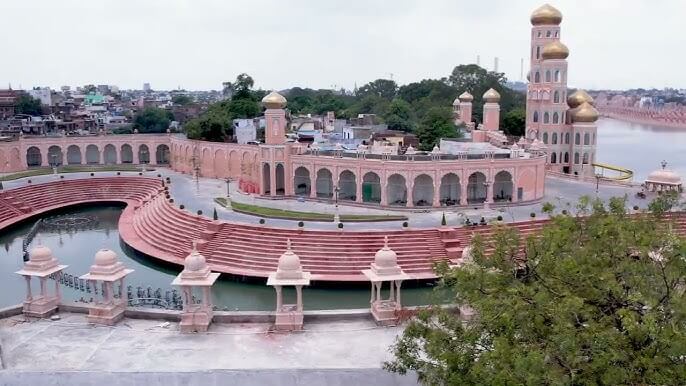 you will enjoy witnessing all the famous monuments at one place and I am sure this zone is going to be the most favorite instagrammable spot for selfie lovers.
So, now you don't have to wander around different places to see these famous buildings, just visit Kota.
Invisible Yoga Statue
Along with that, the one thing which will astound you the most is the invisible yoga statue.
This masterpiece of engineering will appear and disappear in a moment.
This statue is made of stainless steel, and around 12 tonnes of steel is used to prepare this invisible yoga statue.
Water Park and Fun Zone
A fun zone is being prepared at the eastern side of the riverfront. This fun zone area will have a water park, food corner and party halls.
So, tourists coming here will be able to enjoy delicious food along with pool activities.
In Chambal River Front Water Park 3 big water pools and 1 children's pool are prepared for fun activities.
6 golden domes are being prepared near the pool. Of these, water slides have been installed in two domes from a height of 6 and 5 meters.
Not only this, the waterfall wall will keep falling from one pool to another from 3 meters and 2 meters.
150 people will be able to have fun together in all the three water parks built here.
📰 Also Check: Beautiful Tourist Places in Kota
Frequently Asked Questions About Chambal Riverfront
1. How long is the riverfront in Kota?
Chambal riverfront is 6 km long.
2. What is the budget of Chambal Riverfront Project?
The approximate cost of building Chambal riverfront is ₹1200 crore.
Conclusion
I am sure this Heritage Chambal River Front in Kota is going to be on the top list of tourist places in Rajasthan and probably the most loved places to have fun with family and friends.
So, when are you planning your trip to Kota to satisfy your wanderlust?
I hope soon.