Oxyzone Park – Quick Information
Oxyzone City Park, Kota timings
Morning 5 AM to Evening 10 PM
Oxyzone City Park, Kota ticket price
₹‎100/person
₹‎50 for students
₹‎300 Monthly pass
Facilities at Oxyzone City Park, Kota
– Drinking water
– Public Toilets
– Restaurant & café
– Parking area
Oxyzone City Park, Kota address
Instrumentation Limited Colony, Kota, Rajasthan 324005
Kota's Chambal Garden and 7 Wonder Park are already increasing the beauty of Kota city, but now another magnificent garden is ready to enhance the glory of Kota.
Kota's Oxyzone City Park is open for people from 13 Sep, 2023. Cheers! 🙂
This eco-friendly park has many modern facilities which makes it unique compared to other traditional parks.
So, without wasting your time here I am sharing detailed information related to Oxyzone City Park, Kota.
13 Interesting Things to do at Oxyzone City Park
Enjoy the ambience of this newly launched park.
Organize a picnic in the park with your loved ones.
Stay fit by exercising in the open gym.
At night, enjoy the show at upside down pyramid.
Take a walk in oval shaped aviary and watch several species of birds.
Take a romantic Shikara boat ride in the lake.
Play with kids in the kids zone.
Eat the delicious food at the hilltop glass restaurant.
Walk with your kids in fountain alley and enjoy with them.
Watch swimming ducks in the pond and wonder about life.
Enjoy the beautiful night view of the glasshouse.
Enjoy the live concerts, music shows in the open theatre. (If happening)
Click memorable photos & selfies with your friends and family.
City Park Kota – Attractions, In a Nutshell
| | | |
| --- | --- | --- |
| 1. Health Zone: Features an open gym | | 7. Duck Pond: Where beautiful ducks swim and enjoy. |
| 2. Flower Street: Tress of Peepal, Banyan, Neem, Gulmohar etc | | 8. Shrub Zone: Diverse collection of shrubs makes the park look amazing. |
| 3. Beautiful Circles: Save Earth Circle, Tree man Circle, Mayur Chowk, and Kinetic Rotary | | 9. Bird Aviary: Several species of birds reside. At night aviary display splendid lights. |
| 4. 1200 meter Canal: Where you can enjoy Shikara boat ride | | 10. Shikara Boats: That offers a pleasure ride and takes your heart to Kashmir. |
| 5. Food court and cafe: From South Indian to Chinese dishes, everything is here. | | 11. Kids Zone: Where kids rejoice and play. |
| 6. Bridges: Wooden bridge and stone bridge leading to beautiful path. | | 12. Amphitheater: Where audience enjoy the live show and concerts. |
✅ Avoid Confusion, Save Time: Above information is important for Oxyzone City Park visitors, please share this page. 👇
About Oxyzone City Park
Oxyzone City Park is developed in the area of 71 arcs at the cost of 120 crores.
72 percent of the park's area is developed as a green area planted with beautiful plants and flowers. This park will act as an oxygen factory for the city.
The remaining 16 percent area is covered with artificial ponds and lakes.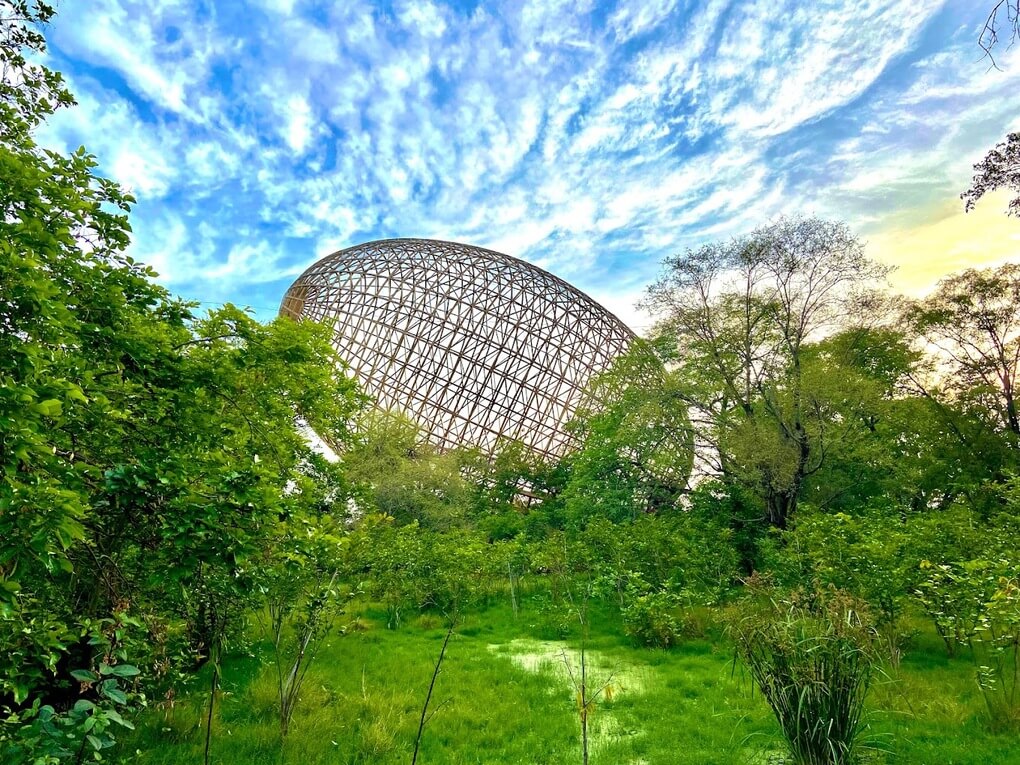 Fact: The name Oxyzone has been given to this city park because this park is going to become the natural oxygen factory of Kota. More than 2 lakh trees have been planted here, which will give pure oxygen to the city dwellers for 8 kilometres.
📚Interesting Article: Chambal Riverfront Kota | Entry is FREE
Green landscape, an artificial water lake with a bridge, different birds, and fountains are going to give a different vibe to every individual.
This unique garden has something to serve everyone.
For example
For fitness lovers, it has big jogging tracks and an open gym.
For photography enthusiasts, it has several beautiful locations that are worth capturing.
For families, it has a big green landscape area where they can enjoy day-out picnics.
For kids, It has a large playing area which includes swings and slides to play and enjoy their time.
All these things together make it a perfect hangout place in Kota.
Things to do
Restaurants, Hotels
Top Attractions- What will amaze you the most?
Fact: A forest of almond trees has been made here and seating arrangements have been made in the middle of it. So that people can enjoy sitting in the middle of the forest. 
Lakes and Shikara Boats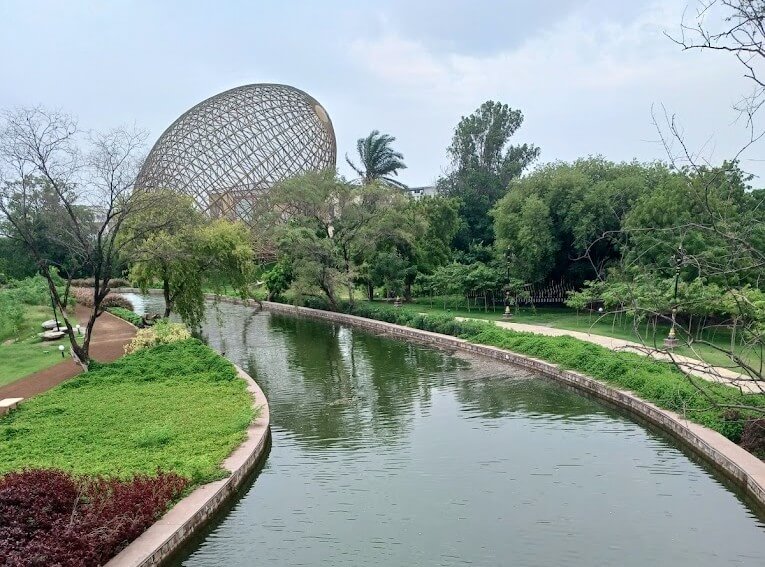 In the middle of the park, a 1200-meter artificial lake has been made. 38 different monuments installed in the park can be seen from the lake.
Now you will be able to enjoy Shikara rides in Kota which will make you feel like you are in Kashmir.
Five Shikara boats have reached the park.
By sitting in these boats, tourists will be able to roam around a 1200-meter-long winding lake built in the park and enjoy the beautiful views of the entire park.
📚Interesting Article: Beautiful Tourist Places in Kota
Ramp Bridge
A ramp bridge was built over the lake from which people can go to the other side. A bridge is decorated with beautiful lights.
People can enjoy the mesmerizing views of the garden and lake from the top of this bridge.
The view from the bridge is even more fantastic at night when the whole area lights up.
Taking pictures with friends is a must when you get such a wonderful background.
Art Hill and Glass Top Restaurant
An artificial hill structure has also been built in Oxyzone City Park which is unique in itself. It is 625 feet long and 100 feet wide.
Two doors have been made for entry and exit in Art Hill.
Thousands of people can gather together in this unique structure. This artificial hill will remain cool even without AC.
A glass-top restaurant is built about 115 feet above the hill. Fifty people will be able to enjoy the delicious dishes here while watching the view of the whole city.
Glass design lifts are also installed for movement in this glass-top restaurant.
📚 Also Check: Kota Chaupati
Inverted Pyramid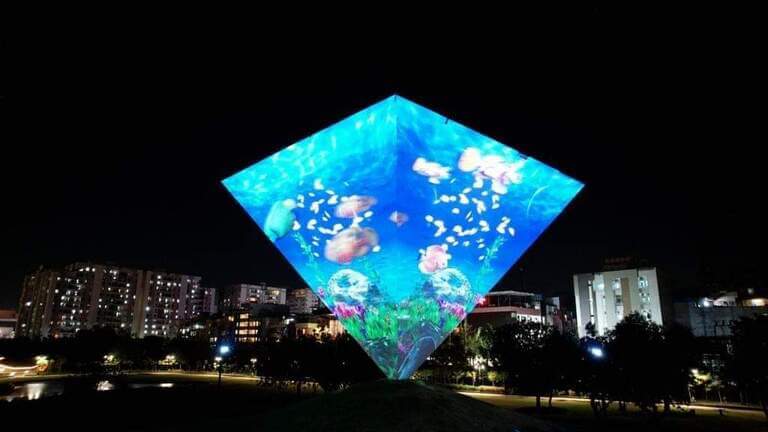 An inverted pyramid made of white marble has been installed here.
The pyramid rests on the ground on the triangular part. It will work like a LED screen on which videos and advertisements are played.
It will act as an open theatre here and people will be able to enjoy it.
For this, four projectors have been installed around it. The picture will look the same from all four corners.
Duck Pond and Lotus Pond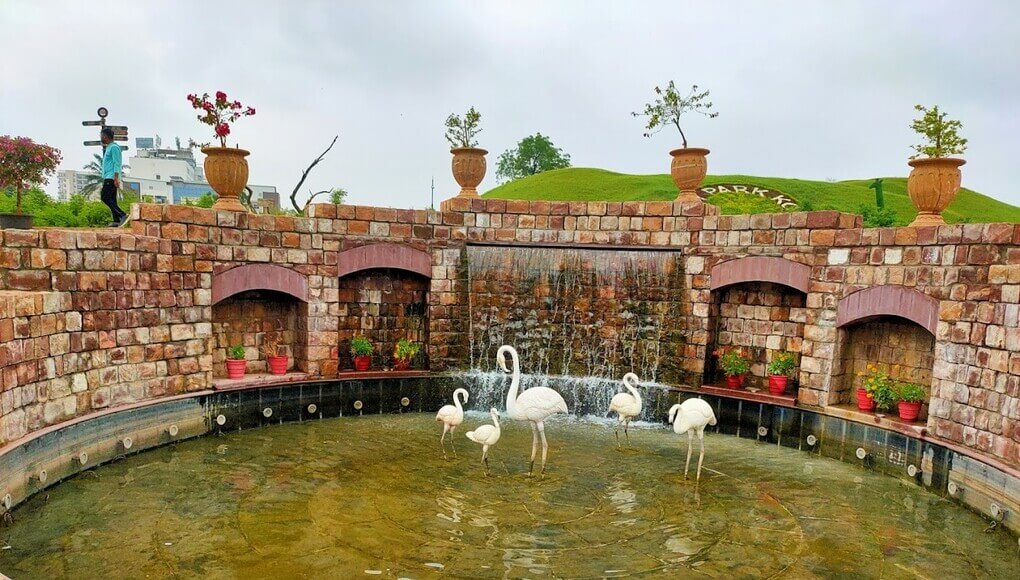 5 different ponds have been made in the city park.
Out of which Duck Pond and Lotus Pond will especially attract people, children.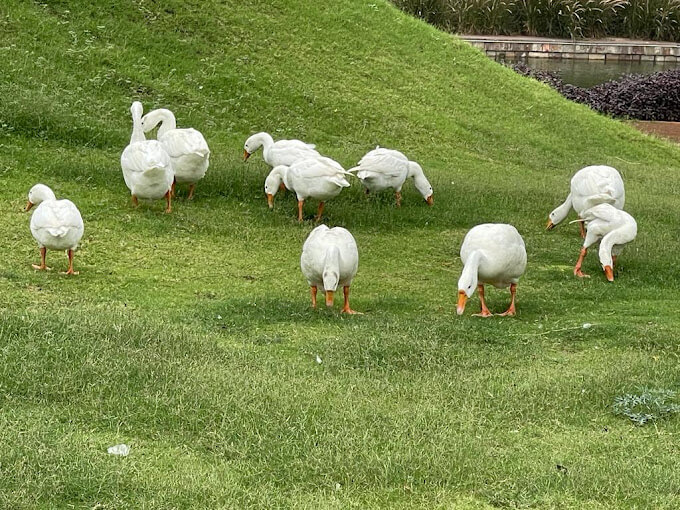 Swimming ducks and blossoming lotus will fascinate your mind.
Kids Play Zone
A separate kid's play zone has been made for the children coming to the park.
Where different types of swings have been installed.
Along with this, a maze has also been made, so that children can be entertained.
Free parking, Taxi service
Swimming pool, Breakfast
Bar & Lounge
Open Gym
Now you don't have to spend lots of money on gyming.
Oxyzone city park has an open gym. Several exercising equipment are installed in the park.
You can now enjoy exercise in fresh oxygenated air and reach your fitness goals, amid blooming flowers, chanting birds and a calm atmosphere.
What can be more wonderful than this? Isn't it?
Glass House
Glasshouse architecture will also fascinate you in the city park. It is constructed very beautifully.
Many lights have been installed in this whole glass house. It will be amazing to see it at night.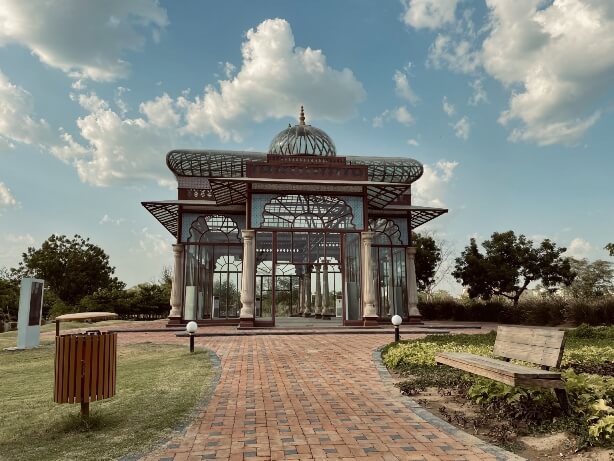 Standing like a crown between the greenery the beauty of this glass house will leave you in awe
If you are fond of taking pictures then you will love this glass house.
Kinetic Tower
The Kinetic Tower will also be the centre of attraction among the people.
It is designed in such a way that it will move with the wind.
Keenetic Circle is an amazing combination of engineering and technology.
Here you will be able to destress yourself and can enjoy a serene atmosphere.
📚 Also Check: 10 Best Hotel in Kota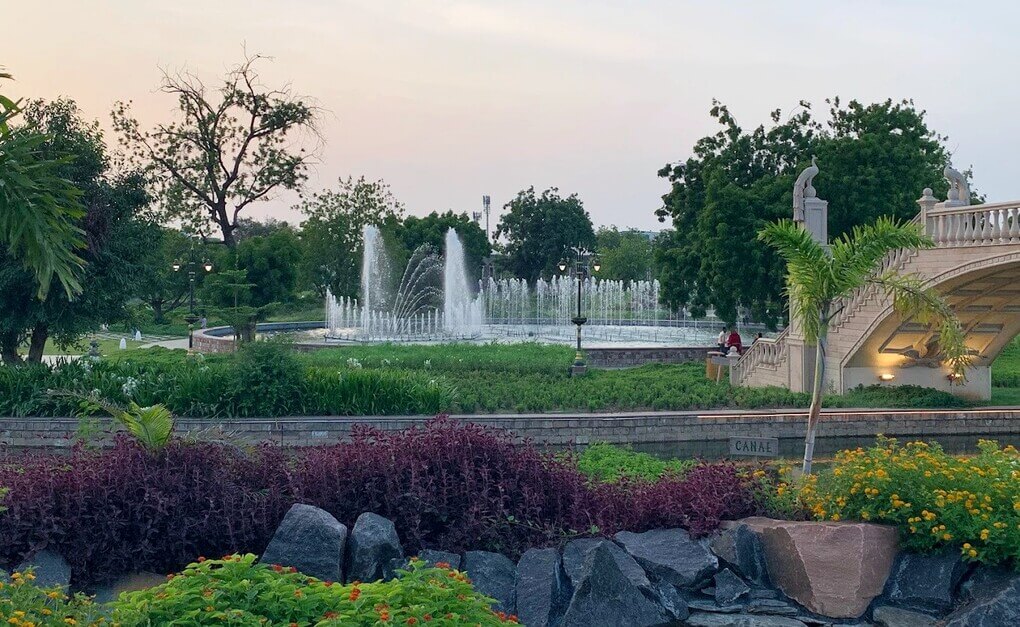 Top 5 Activities you can do at Oxyzone City Park
Oxyzone City Park is a place where every age group can enjoy multiple activities. I have selected the top 5 of them and listed them below.
I am sure it will help you to maximize the joy of visiting the Oxyzone city Park.
1. Jogging & Outdoor games
Oxyzone City Parkis a great place for physical activities like jogging and walking.
You can also enjoy playing outdoor games such as badminton, volleyball, frisbee etc with family and friends.
Fact: There is a path of more than five kilometres in the park, through which one can roam around in the park. Apart from this, a walking and cycling track is also made for the residents of the city, which will be one and a half kilometres long.
2. Karaoke
This is a fun activity getting popular at the park. You can organize karaoke sessions at Oxyzone city park with family and friends.
So, if you are also a person who loves music and singing then you can plan such fun activities. You will get a free audience. 😉
3. Cycling
Cycling is one such great aerobic exercise which keeps you fit physically and mentally. You can also enjoy cycling at Oxyzone City Park
4. Picnic with Family
Oxyzone City Park is a perfect place to come for a picnic with family and friends. The large green space can accommodate many families. You can also enjoy food with nature.
Note: Drinking water and food facilities are available inside the park premises and you are not allowed to take any edible items inside.
5. Click memorable photos
Oxyzone City Park is a cinematic place where you can click thousands of photos. Couples can come here for pre-wedding, post-wedding, and pre-pregnancy photoshoots.
There are several locations and settings where a photographer can click mesmerizing photos.
Oxyzone City Park Map
Final Thoughts
The beauty of Oxyzone City Park is beyond expectations. The Plantations are very nice and the statues here are even more beautiful.
So, if you haven't visited the Oxyzone City Park Kota yet, then plan a visit as early as possible & enjoy.
Share the article if you like it, also I would be happy to hear your thoughts in the comments section.