City Park Mansarovar – Quick Things to Know
City Park Timings
6 AM to 9 PM
Ticket Price (6AM to 9AM)
FREE Entry
Ticket Price (9 AM to 9 PM)
₹20/Person
Annual Pass Fee
₹999/person
Two Wheeler Parking Charges
₹20 for three hours
Four Wheeler Parking Charges

₹50 for three hours

Pre-Wedding Shoot Charges
₹10,000/day
Movie Shoot Charges
₹50,000/day
Facilities at City Park
➛ Drinking water
➛ Public Toilets
➛ CCTV monitoring
➛ Security guards
➛ Parking for 400 vehicles
Address
Ward 27, Mansarovar Sector 6, Mansarovar, Jaipur, Rajasthan 302020
🔸Update: From 9th March 2023 Free entry to City Park will be allowed until 9:00 AM for morning walkers. After 9:00 AM, you have to buy a ticket for Rs. 20 per person to enter the park. If you visit the park everyday then you can purchase an annual pass that cost Rs. 999 per year per person (Rs 2.75/day).
Jaipur is famous all over the world for so many reasons like rich food, clothing, monuments, heritage Havelis, forts etc.
Added to this, Jaipur city has beautiful greenery-filled parks like Central Park, Jawahar Circle, and Landscape Park which further accentuate its beauty.
Another such park has been established to enhance the beauty of Jaipur.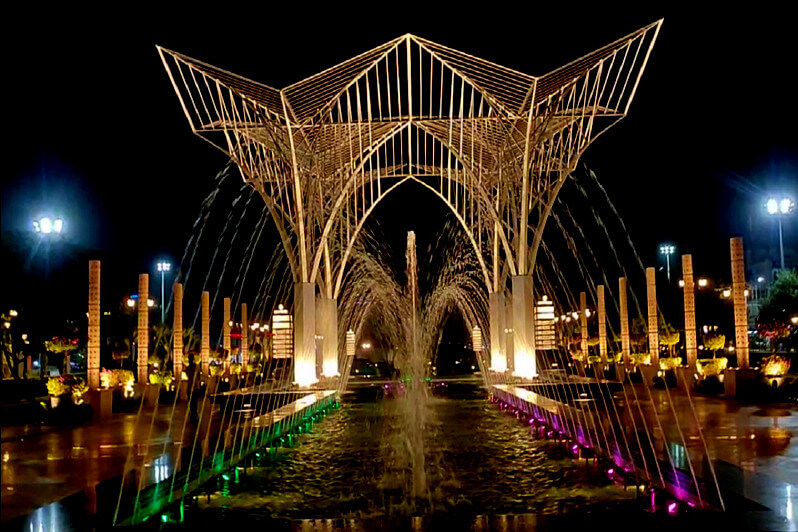 A brand new "City Park" in the Mansarovar area is now open to the public.
The land where the City Park Mansarovar is built was previously a metro scrapyard. Rajasthan Housing Board converted this dump yard into a beautiful park
Interesting Fact: City Park is the 2nd largest park in Jaipur, largest is central park.
Earlier the plan was to build a commercial complex here but after the chief minister's suggestion & considering the environment of the locality city park was built instead of a commercial complex.
Recently Honorable CM Ashok Gehlot inaugurated the City Park Mansarovar on 21, October 2022.
This new park is already becoming the top attraction for Jaipurites.
City Park Mansarovar, Jaipur – Ambience That You Will Love
While entering the park through Madhyam marg, a huge fountain decorated with colorful lights welcomes you.
As you walk further, the wide range of different flower beds will mesmerize you.
The greenery along the walking track is the cherry on the cake for nature lovers.
Lakhs of people are visiting with their families to experience the beauty of the City Park.
The city park is spread over 52 acres of land. The development of the park will be done in two phases.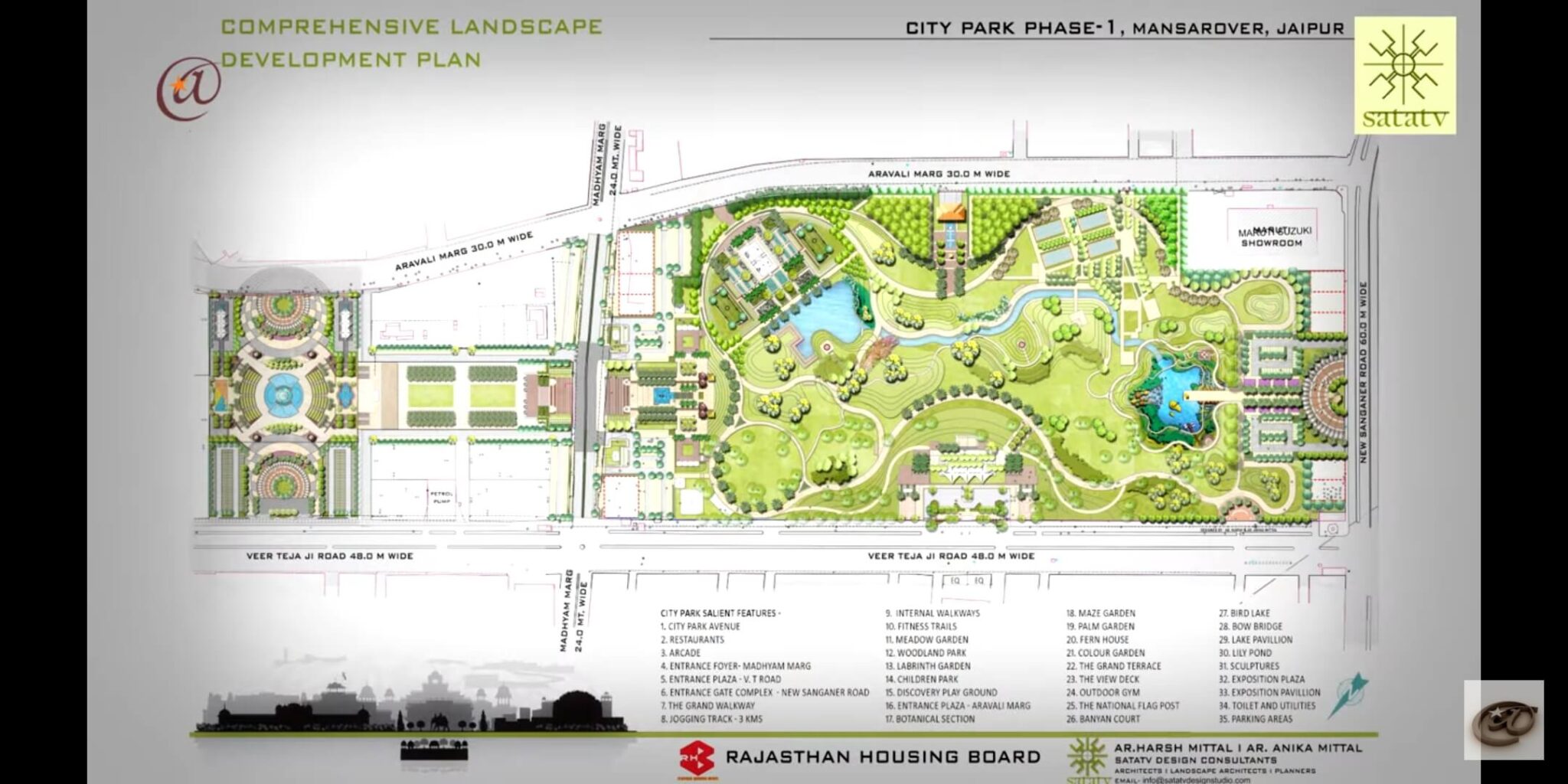 Source: ashconsultants
City Park, Mansarovar – Development in 1st Phase
The first phase of development is already complete which includes
Horticulture Works
Civil work
Jogging tracks
Fountains
Rock Fountain and Lower lake
Sculptures
2 parking areas
An oxy hub
Sitting benches
Fact: To develop the city park, the government has spent 54 crores in the first phase
City Park, Mansarovar – Development in 2nd Phase
Development of the second phase is under construction which includes:
Fountain software
V.T road plaza
New Sanganer plaza
Aravali plaza
Botanical garden
Food court
Upper lake
Children play area
Outdoor gym
Open-air theater
Fact: 120 crores will be spent on the overall development of the park.
Top Attractions- What will amaze you the most?
1. Grand Entry Plaza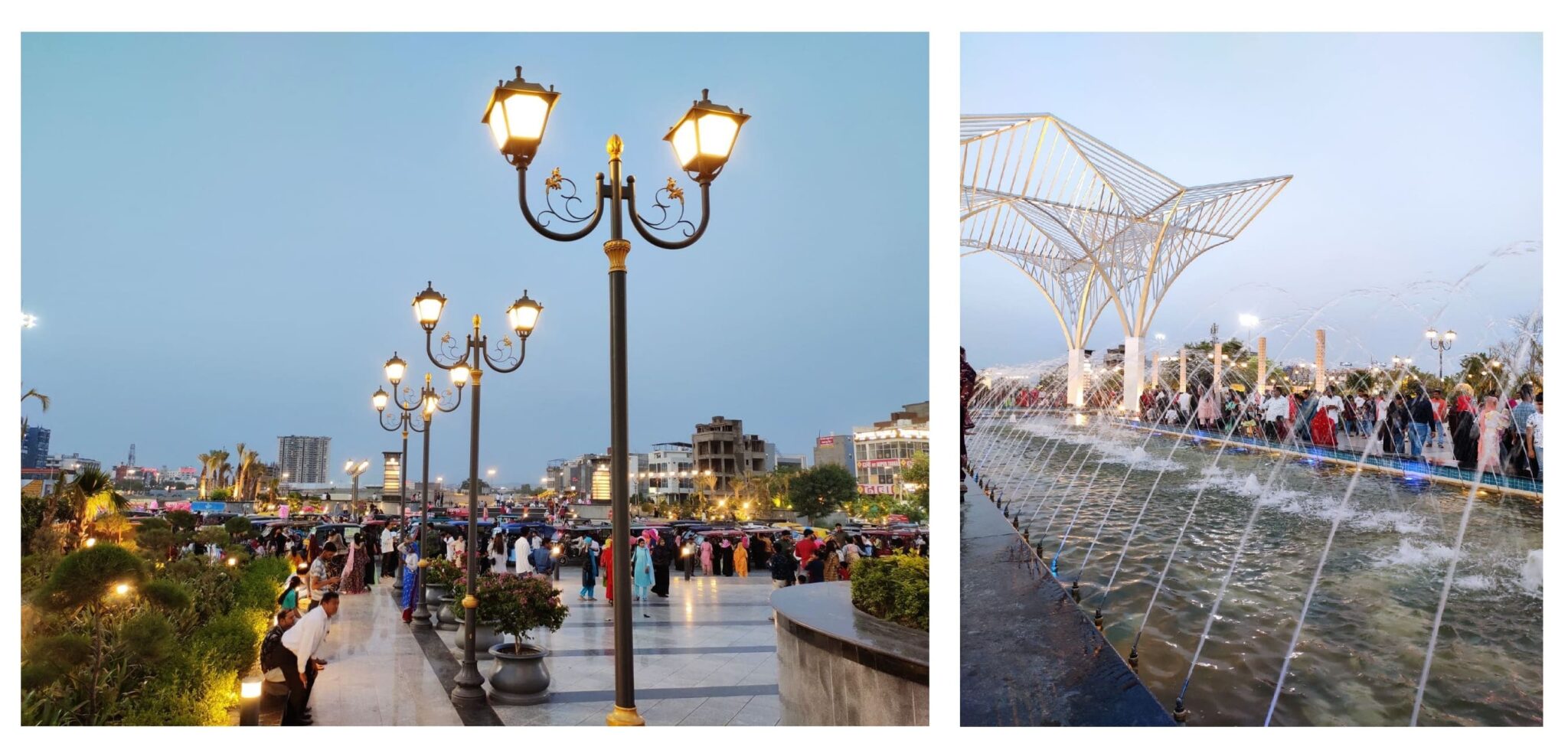 Mansarovar City Park's main attraction is its grand entry plaza. A huge fountain and waterbody are installed next to the grand entry. Surrounded by lights and greenery the entire entrance looks grand and spectacular.
2. Sculptures and selfie points
You will see selfie points and different artifacts as soon as you enter the city park in Jaipur.
So, not taking a selfie at the selfie point will be selfish to this place 😆
When you look at the sculptures you will feel creativity at its best.
They look so real that you may feel they will come alive and talk to you.
The best part is that social messages like "save trees", "protect our mother nature and environment", and "Importance of sports and physical activity in our life "has been highlighted through sculptures most simply and effectively.
These sculptures are even more mesmerizing when they were lit up by the lights.
3. Jaipur flower show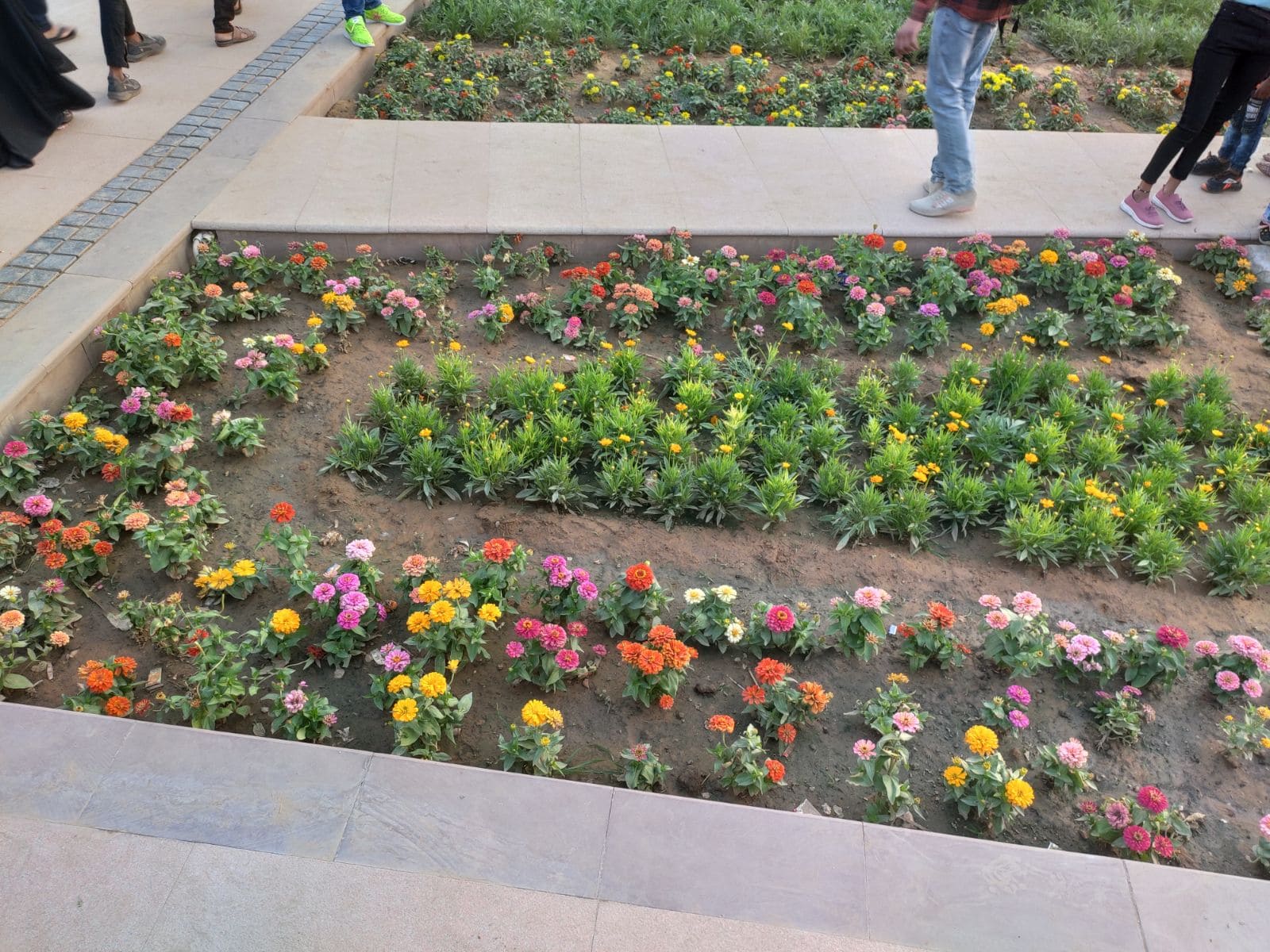 After the entrance through Madhyam Marg, different colorful flowers have been planted in 2000 sq meters.
Many flower beds are made where 50 different species of flowers will be planted.
The Flowers show will be hosted between November to February.
4. Jogging Tracks and Internal Walk-ways
City Park Mansarovar is a new destination and a gift for joggers and fitness enthusiasts of Jaipur.
It has 4 kilometers long jogging path. Enough for the everyday run, right?
Also, the internal walkways are 3.5 km long and 20 ft wide.
On the sides of the walking track, 25000 plants and trees are planted.
Along with that, there are music systems near jogging tracks to make your workout even more interesting.
5. Landscape gardens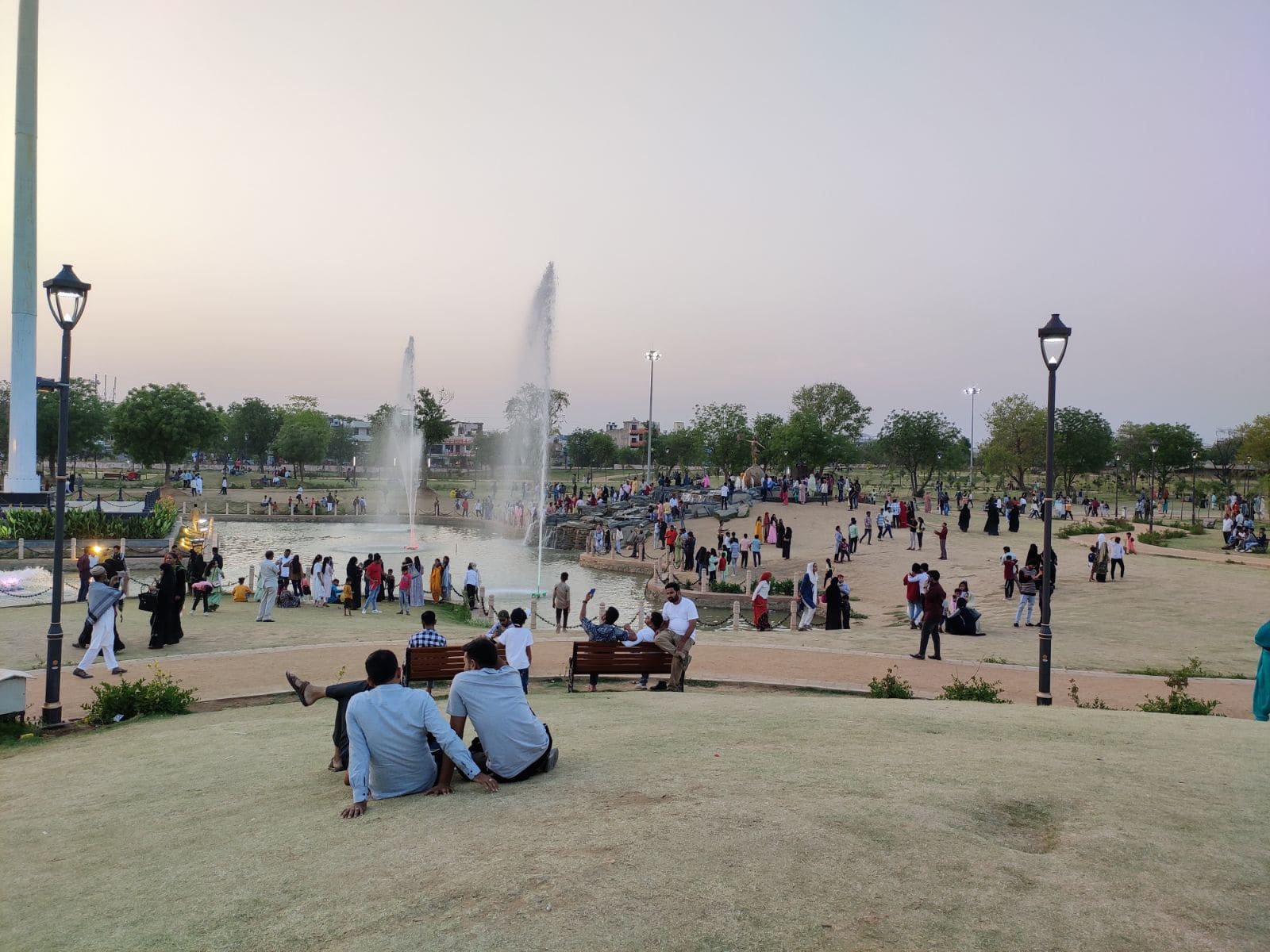 Beautiful landscape gardens covered with greenery and surrounded by sparking lights are another charm of the city park.
Several sandalwood trees are also planted in the gardens. I wonder if Pushpa Raj will come for the smuggling of sandalwood trees. 😉
When lights fall on the trees, the entire view looks overwhelming.
Jaipurites are already enjoying winters with their family and friends in these gardens.
6. Rock Fountain and Lower Lake: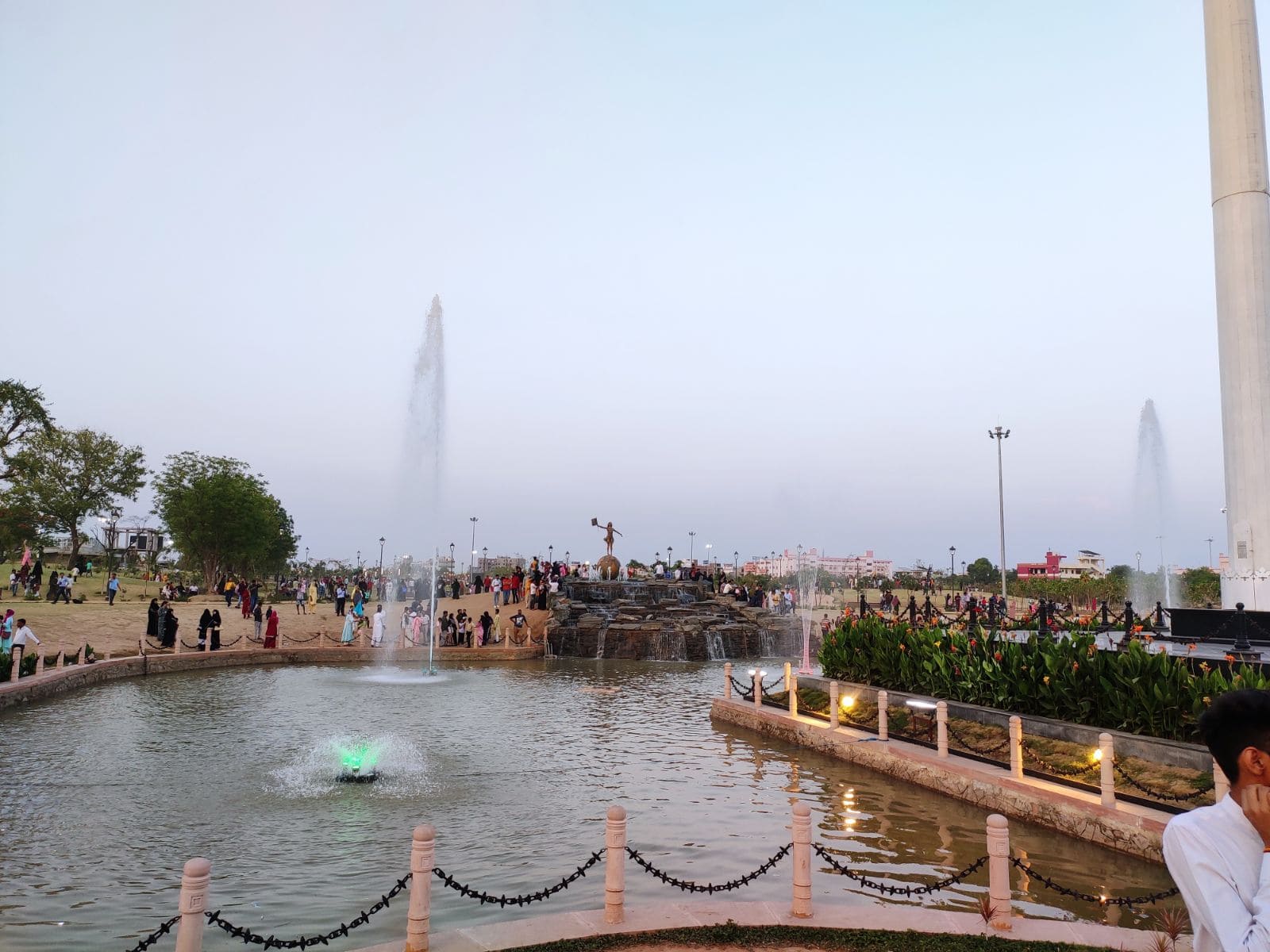 The beauty of Rock Fountain and Lower Lake is a sight to behold. It has become the center of attraction among people, especially children.
The rock fountain is added with different amazing lights which create different designs.
When the reflection of these sparkling lights and colorful fountains falls on the lake, it makes the atmosphere magical.
A comfortable sitting facility is arranged for the crowd around the rock fountain and lower lake to enjoy the moment.
Installation of a musical fountain square and development of a food plaza
The installation of a musical fountain square and the establishment of a food plaza will be the next big project at the city park.
The musical fountain square will be installed and developed in an area of 40,000 square meters.
A musical fountain and water screen will be added to this on which heroic stories of Rajasthan will be played.
Also, there will be a sitting arrangement for the crowd around the fountain.
Food Plaza will be made on the lines of Jaipur Chowpatty. Stalls will be given on rent by Jaipur Housing Board.
Conclusion
The beauty of City Park is beyond expectations. The Plantations are very nice and the statues here are even more beautiful.
We are hoping phase 2 of this park proves to be even more beautiful than phase 1.
The beauty of this park will be getting more & more beautiful with every passing day.
Lots of people visit every day and the city park will prove to be the pride of Jaipur.
Fact: More than 1 lakh people are visiting the city park on weekends.
So, if you haven't visited the City park Mansarovar Jaipur yet, plan as early as possible & enjoy.
Share the article if you like it, also I would be happy to hear your thoughts in the comments section.
Frequently Asked Questions about City Park, Jaipur
What is the address of City Park Jaipur?

City park, Jaipur is located at Ward 27, Mansarovar Sector 6, Mansarovar, Jaipur, Rajasthan, 302020, India.
What is the ticket price of City Park, Jaipur?
The ticket price of City Park, Jaipur is Rs. 20 per person. Annual pass costs Rs. 999 per person.
What is the cost of pre wedding shoot in City Park Jaipur?
Cost of pre-wedding shoot in City Park Jaipur is Rs. 10,000 per day.
How long is City Park Jaipur track?

The jogging tracking at City Park Jaipur is 3.5 km long.