The Pink City – Jaipur has many tourist places, markets, and monuments that you can visit during Diwali. The pink city is famous all across the world for its Diwali celebration in heritage style.
The 300-year-old markets, shops, roads, and malls, every corner of the city shines bright. Deepavali season in Jaipur presents a different and mesmerizing picture of Jaipur.
You must visit Jaipur during Diwali and visit all these places to make your Diwali memorable.
1. Nahargarh Fort
Nahargarh Fort and surrounding hills are already famous for offering the most stunning panoramic view of Jaipur city.
But watching the entire Jaipur from Nahargarh Fort on Diwali night is a remarkable experience.
The city brightens up from the lights and the sky sparkles with fireworks. The view from Nahargarh is heavenly.
Read: Chambal River Front, Kota
2. Jal Mahal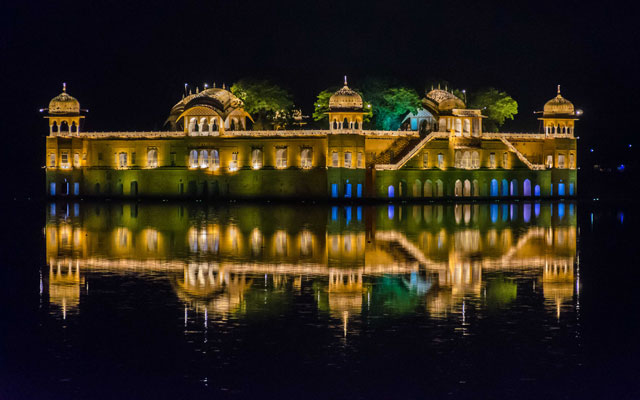 Jal Mahal is a historic architectural wonder of Jaipur. It has a unique charm during the Diwali season. Standing in the middle of the Man Sagar Lake, the palace is adorned with beautiful lights on Diwali.
The shadow of the sparkling "Jal Mahal Palace" in the lake is a sight to behold. For locals and tourists, it's a great place to visit in Jaipur during the festive times of Deepawali.
3. Statue Circle, Jaipur
Statue Circle, the famous place for cold coffee in Jaipur, is transformed into a mesmerizing kaleidoscope of lights during Diwali. The grand statue shimmers in a sea of colors, casting a magnetic aura over all who visit.
Special Offers on Hotels – Book
4. Moti Dungri Ganesh Ji Temple
On Deepawali, Moti Dungri Ganesh Ji Temple glows at night with countless lamps. It creates a celestial atmosphere that enchants visitors. It is one of the best places to visit during Diwali.
Flight Offers – 20% Discount
5. Chaura Rasta Road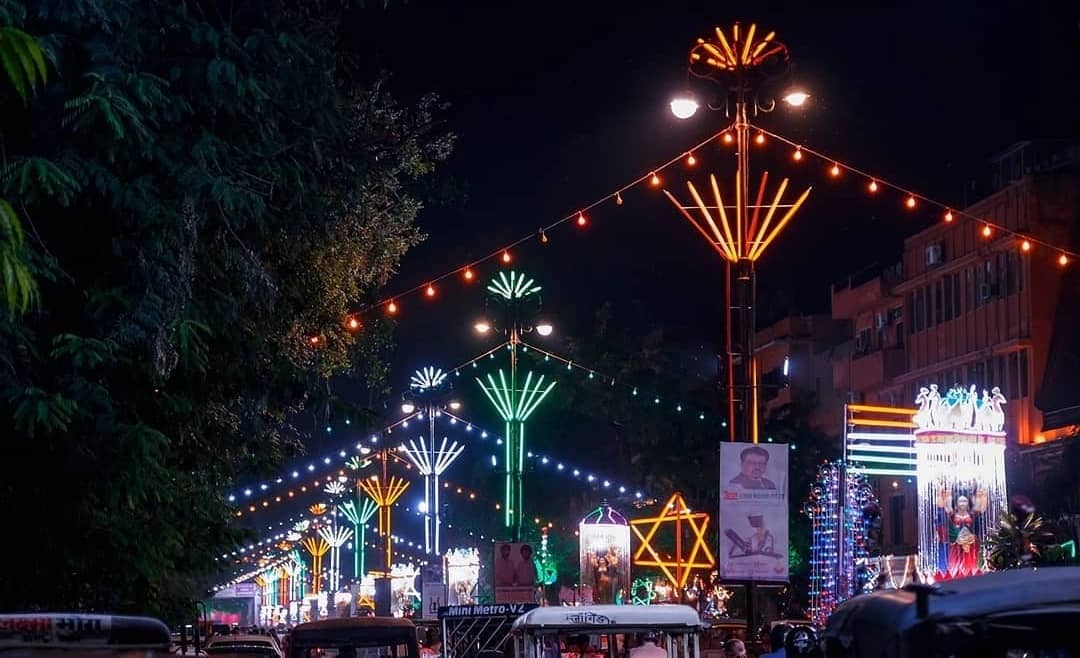 Jaipur is famous for various markets and Chaura Rasta Market is a bustling hub of Diwali shopping. It is the place where the vibrant culture of Jaipur takes center stage. Glowing heritage shops, Golcha cinema, twinkling fairy lights, and the aroma of delicious food fill the air with joy and happiness. Chaura Rasta makes the Diwali festival unforgettable every year.
Jaipur Hotels – Upto 40% OFF
6. Johari Bazaar
Johari Bazaar is a dazzling jewel during Diwali. Streets lined with traditional shops and ornate lighting create an enchanting shopping experience. Decorated jewelry, handicraft shops, and LMB sweets shops all make the Johri Bazaar a must-visit place in Jaipur during Diwali.
Read: City Park Jaipur
7. Nehru Bazar Road
Nehru Bazar Road shows various colors during Diwali. From colorful textiles and pottery to traditional juti. Nehru Bazar is a one-stop destination for all your Diwali shopping needs. If you are coming to Jaipur on Diwali then Nehru Bazaar is a great place to visit during Diwali.
Read: Jaipur Chaupati
8. Chandpole Bazar
Chandpole bazar in the walled city perimeter of Jaipur is another great Diwali hang out place. Every year on Deepavali, Chandpole market is beautifully decorated.
In 2023, bazar will be decorated on candle light theme with some selfie points. There are two attractions that will pull people to Chandpole market on Diwali. 1st, the "Samudra-Manthan replica", 2nd "Dev-Darshan pageant".
You can see both attractions at 'Chauti Chaupad' entry gate. It will be a great experience to visit Chandpole market. Don't miss it.
9. Raja Park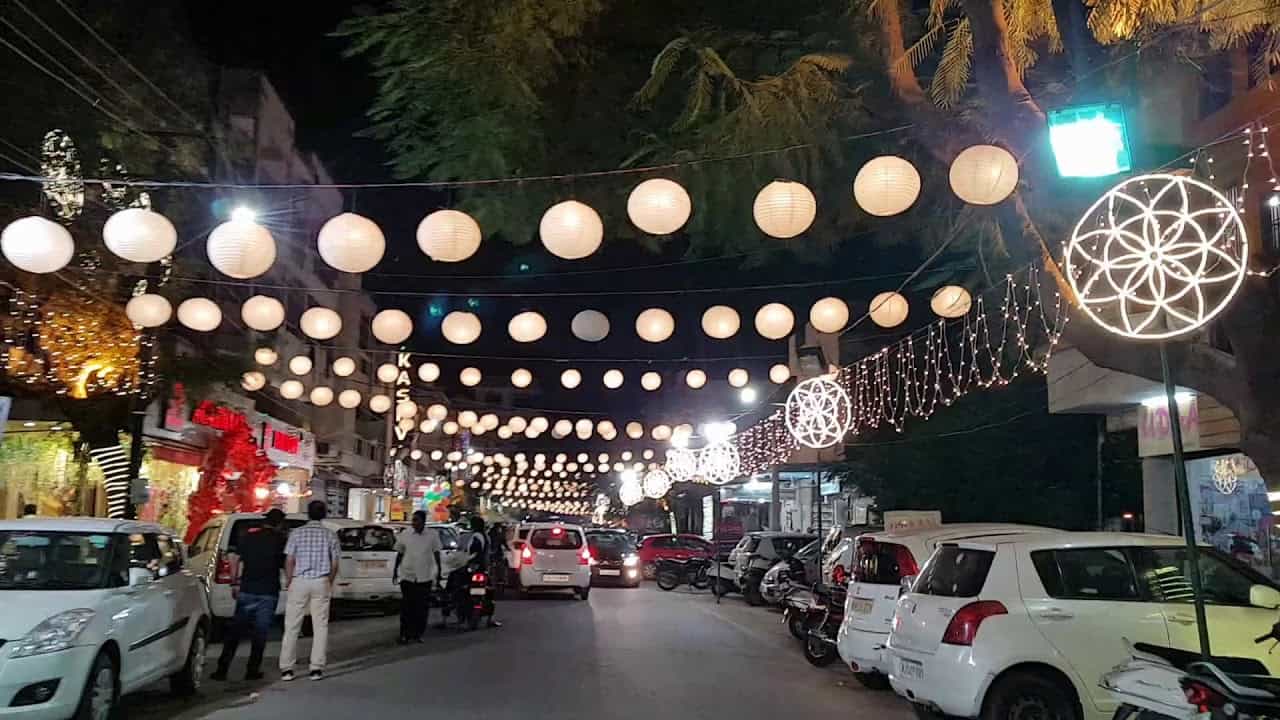 On Diwali, Raja Park's streets look beautiful. Shops and houses adorned with lights and lanterns paint a beautiful picture of community celebration. At Raja Park, people come together to share the joy of the occasion. Surely, Raja Park is among the best places to see in Jaipur in the Diwali season.
Read: Jawahar Circle, Patrika Gate
10. Mirza Ismail Road
Mi Road Jaipur's premium market looks majestic with ornate lighting during Diwali. The Paanch Batti Circle on MI road is a must-visit tourist place during Diwali in Jaipur.
11. Motisons Jewelers Lotus Shaped Building
The lotus-shaped building of Motisons Jewellers is an iconic building of Jaipur. It's an architectural marvel that attracts tourists' eyes throughout the year. On Diwali, the building looks and the jewelry store looks eye-pleasing.
12. Vidhyadhar Nagar
Vidhyadhar Nagar, the last corner of northern Jaipur has beautiful broad markets. Vidhydhar Nagar's Dusshera Mela is already famous in Rajasthan, where almost 3 lakh people gather. On Diwali, the markets are lit up and sweets shops spreads sweet scent. it feels amazing.
Diwali Carnival on the auspicious occasion of Deepawali takes place every year. It provides one-stop Diwali shopping options to tourists and Jaipurites. The cultural programs, different shopping stalls, swing rides, food court, quiz competitions make the carnival a must visit place during Diwali.
in 2023, Diwali Carnival in Vidhyadhar Nagar will start on Nov 3 and will last for 10 days.
Diwali in Jaipur is a truly magical experience, with the city adorned with dazzling lights and celebration. Tourist places in Jaipur showcase a different beauty in the festive season.
From the iconic Statue Circle to the bustling Chaura Rasta Road, Jaipur has several places to visit during Diwali. Every corner of the city comes alive with the festive spirit.
If you're looking for an unforgettable Diwali experience, Jaipur is the place to travel on Deepawali.