Do you know which is the biggest circular park in Asia?
It is located in our pink city, Jaipur.
Yes, you are thinking right. Its Jawahar circle.
It is located near Sanganer airport on Jawaharlal Nehru Marg.
But what is so special about Jawahar circle apart from being the biggest circular park of Asia?
To find out, keep on reading.
Jawahar Circle Garden Overview:
Jawahar circle garden was developed by the Jaipur Development Authority in 2009 and took INR 17 million to be constructed.
Talking about its architecture it has a diameter of 1483 feet and a circumference of 4659 feet. It has several concentric paths and jogging tracks inside. In the center of the garden are the fountains with a water body and water screen which is 27 m wide and 9 m in height.
It is one of the top most attraction among the locals and tourists for so many reasons, such as:
Patrika Gate
A beautiful range of different flowers
Tall standing trees
A rose garden (where you are not allowed to visit ;))
Food stalls
Musical and light fountain shows
This unique garden has something to serve everyone.
For example:-
For fitness lovers, it has big jogging tracks and an open gym.
For photography enthusiasts, it has several beautiful locations that are worth capturing.
For families, it has a big green landscape area where they can enjoy day-out picnics.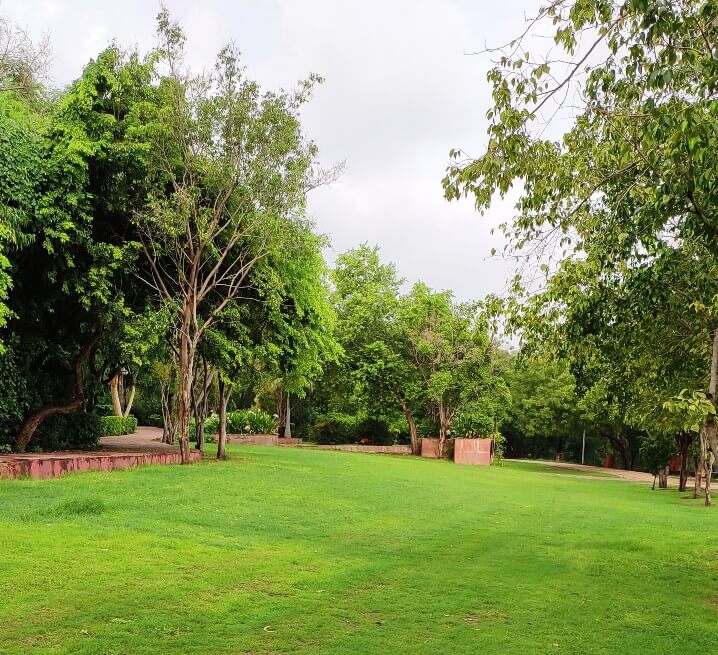 For kids, It has a large playing area which includes swings and slides to play and enjoy their time.
All these things together make it a perfect hangout place in Jaipur.
My favorite thing to do is observe nature and beautiful flowers around with a kulhad chai.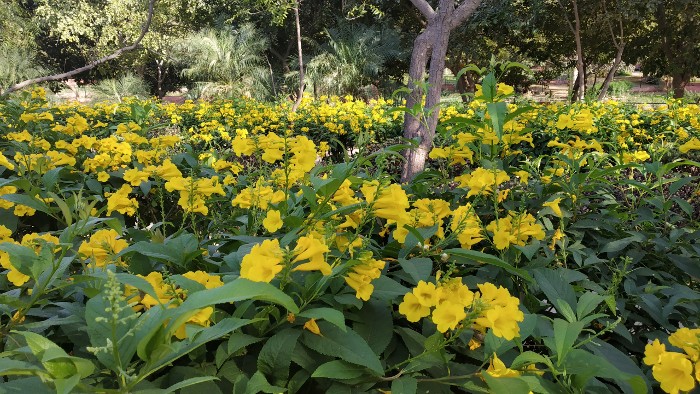 I am a huge nature lover. I believe nature has a direct connection with our health, happiness and well-being but I have realized that our modern life with busy schedules has disconnected us from nature.
I often think, how our generation stopped spending time with nature like gazing at the sunset, appreciating beautiful flowers or listening to the birds chirping.
Mostly our holidays are spent in shopping malls, cinema halls or virtual playing zones.
Our ignorance toward nature awareness also resulted in some serious well-known environmental problems like global warming, deforestation and pollution.
Apart from that, it is affecting children's health drastically. Children are getting addicted to technologies like mobile, tablets or laptops which is resulting in health issues like obesity, aggressiveness, irregular sleep and dampened creativity.
Are you also worried about these issues?
Well, I understand how you feel.
Natural places like Jawahar circle garden can help you overcome these challenges.
Studies have shown that being with nature has several surprising health benefits like:
Reduces anxiety and anger.
Improves physical and mental health.
Boosts confidence and self esteem.
Improves sleep.
One great way to relieve stress is traveling to natural places.
I recently visited Bisalpur Dam. Trust me the place was full of natural scenic views which was a great stress reliever and mood booster.
To get more information you can read my Bisalpur dam blog.
Apart from all these benefits there are several other things you cannot miss at this place.
Let's get to know about these…
Top 10 Activities you can do at Jawahar Circle
Jawahar circle is a place where every age group can enjoy multiple activities. I have selected the top 10 of them and listed them below. I am sure it will help you to maximize the joy of visiting the Jawahar circle park.
1. Explore the Beauty of Patrika Gate:
Patrika gate is another top attraction in Jawahar circle garden. It is an excellent piece of architecture showcasing cultural art and heritage.
It represents the 7 original heritage gates which were used to provide access to the old walled city Jaipur.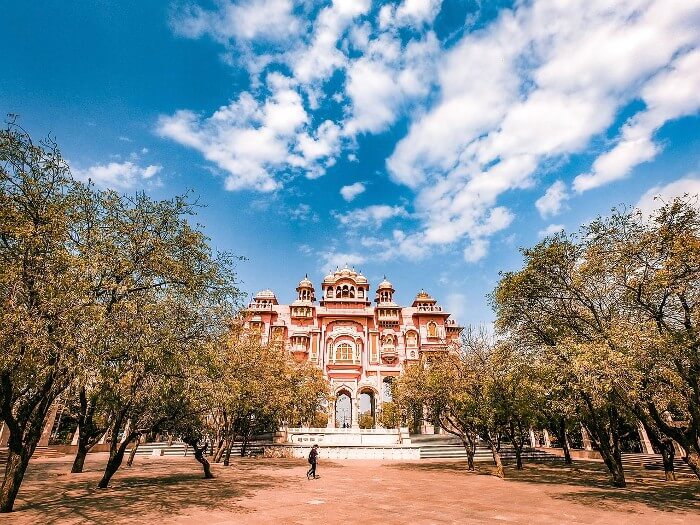 This is now the ninth gate of Jaipur which provides the entrance to Jawahar circle garden.
You will find lots of locals sitting and enjoying their evenings at Patrika gate and I am one of them.
Inside Patrika gate, you will find fabulous walkways and archways. The interiors are decorated with Rajasthani art and paintings of different monuments of Rajasthan with vibrant colors which you cannot stop gazing at.
Apart from that, it is also a top instagrammable spot in Jaipur and one of the most famous destinations for pre-wedding shoots.
Many social events also occur at Patrika gate during weekends.
2. Enjoy the Musical Fountain and light Show
The best thing you will experience in Jawahar circle garden is watching musical fountains and light shows.
It is located in the center of the garden. The combination of 316 different colored lights and fountains with great music creates a mesmerizing ambience.
It can create 270 different light effects which is an absolute delight to the eyes.
The show starts from 7 p.m till 8 p.m.
3. Eat Food at Chaupati
Jawahar circle garden also has a small food zone area. It has different stalls of food items and snacks, most of them serving pav bhaji.
It has a good enough sitting area for families.
You can also find beverages like hot and cold coffee, lassi or tea. Do not miss trying kulhad chai at Jawahar circle chaupati. It serves one of the best tea with a perfect blend of ginger and cardamom.
You can also bring your food item and can enjoy eating with your family at Jawahar circle garden.
There are several other good restaurants near Jawahar circle garden where you can visit or order online.
Some of them are:
Baluchi- A plan Indian Destination
Okra
Lounge 18
Chhabra's Golden Moments
Note: Please remember to put garbage in the trash which is placed in all the areas of the garden. It is our responsibility to keep such a beautiful natural place clean.
4. Jogging
Jawahar circle is a great place for physical activities like jogging and walking. It has circular jogging tracks which are about 3 kilometers long. You will find many people jogging and walking in the park during morning and evening.
5. Outdoor Games
You can also enjoy playing outdoor games such as badminton, volleyball, frisbee etc with family and friends.
Playing football and cricket is not allowed in the park. You may find kids playing cricket and football but the signboards at the park ask not to play both games.
6. Karaoke
This is a fun activity getting popular at the park. Many people organize karaoke sessions at Jawahar circle park with family and friends.
So, if you are also a person who loves music and singing then you can plan such fun activities. You will get a free audience. 😉
7. Cycling
Cycling is one such great aerobic exercise which keeps you fit physically and mentally. You can also enjoy cycling outside the Jawahar circle park. If you don't have a bicycle then you can rent it from both gates of the park.
Note:- Due to road construction work, cycling might not be possible around Jawahar circle.
8. Picnic with Family
Jawahar circle is a perfect place to come for a picnic with family and friends. The large green space can accommodate many families. Just bring your own food and enjoy it with nature.
9. Click memorable photos
Jawahar circle is a cinematic place where you can click thousands of photos. Couples usually come for their pre-wedding, post-wedding, and pre-pregnancy photo-shoots. There are several locations and settings where a photographer can click mesmerizing photos.
10. Skating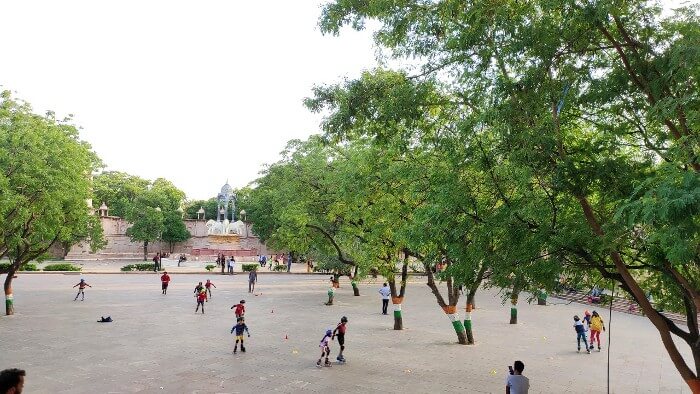 Behind Patrika gate, there is a big space where school kids and young people enjoy skating. If you are interested in skating then you can also come here and learn or polish your skating skills.
Essential Information:
The best time to visit Jawahar Circle is in the morning or evening.
If you want to capture some amazing pictures visit this place in the early morning when the place is less crowded.
Jawahar circle has two huge parking spaces for two-wheelers and four-wheelers (For more than 200 cars) at gate 1 and gate 2.
Visiting Jawahar circle and Patrika gate is completely free.
The distance from Jaipur Airport is less than a kilometer.
Distance from Jaipur Railway Station 12.1 Kilometer.
Timings 5:00 A.M to 10:00 P.M