Quick Information about Jaipur Chaupati Pratap Nagar
Prices of food items
Varies from ₹80 to ₹200
Entry Fee
₹10 per person
Facilities
– Arrangement of drinking water & hand wash area.
– Air cooler to beat the summer heat
– Separate washroom for males and females with installed soap dispenser and electric hand dryer.
– Free car and bike parking
Jaipur Choupati's Timing
10 AM to 11 PM
Orchestra (Live Show)
Starts from 7 P.M
Overview:
Jaipur Choupati in Pratap Nagar – A great place for foodies and music lovers. Explore a variety of food with great ambience. Find all food stalls details, chowpatty timings, available facilities, address in the article.
---
Jaipur – The heart of Rajasthan upholds pride all over the world for so many different reasons like its history, art, culture, tradition, fabrics and many more.
The one thing that makes it famous even further is its amazing and delicious cuisine.
The huge variety of food like dal-bati-churma, ghevar and lassi makes Jaipur a heaven for food lovers.
Fitness freak or a big foodie, we all crave for street foods and treating the taste buds once in a week is quite obvious .
I mean we all love sunday binging like shipa shetty. Right 😉
But after COVID-19, people have become more aware of hygiene and when it comes to food, nobody wants to compromise.
Read: Leopard Safari Jawai, Pali
So, everybody is looking for safer and clean places where one can enjoy a meal without any worries. If you are one of them then you have landed on the right place.
Today, I am talking about Jaipur chowpatty – a multi cuisine open food court, located in pratap nagar area of Jaipur
Read: Places Near Jaipur Under 200 km
About Jaipur Chupati, Pratap Nagar
I know you are eagerly waiting to know about the different mouth watering dishes but let's check out a few facts about Jaipur chaupati first.
Jaipur chupati is an open-air food court, developed and managed by Rajasthan Housing Board.
It was inaugurated on 4 December 2019.
Jaipur chowpatty has another branch in the Mansarovar area of Jaipur.
Both the open food courts are inspired by the Masala Chowk in Jaipur which is situated in Ram Niwas Bagh, Jaipur.
Fact: 6.10 Lakh people visited both Mansarovar and Pratap Nagar chaupatis during November, 2021 to March 2022, its a record breaking number.
Why is Jaipur Chowpatty One of The Best Destination to Enjoy Street Food?
Jaipur choupati is an amazing combination of fun and food. This modern chowpatty brings the essence of many types of street food to one place at pocket-friendly prices.
What could be better than this? right.
Imagine, you are getting several varieties of dishes at one place without visiting multiple expensive restaurants and cafes. That too, with live music performances. Great deal indeed.
Read: Best Resort Near Jaipur
There are several other reasons that make Pratap nagar's chopati a popular food zone among the crowd.
Firstly Jaipur chowpatty has a huge open-air sitting area with very comfortable sitting.
Some of the seating arrangements are covered with patio umbrellas so that you can enjoy your street food comfortably in any weather.
The chaupati provides lights, fans and air coolers in every corner of the food court which is a great relaxation, especially in summers.
Jaipur chaupati offers live orchestra performances which makes your visit to this amazing place even more entertaining and joyful.
You can also request any special announcements or to play your favorite songs at a live show to make your loved ones feel special.
If you love to sing and entertain people then you can also perform in the live show.
All the stalls at Jaipur choupati take good care of hygiene maintenance and the housekeeping staff is also cooperative. (Rajasthani Yatri especially thank all the housekeeping staff that makes hard efforts to keep the food court clean.)
The food court area of Jaipur Choupati is decorated with lush green trees and beautiful flowers and plants.
So in all, it is a rare combination of food, nature and entertainment.
Doesn't it make the Jaipur chopati the best place to enjoy street food?
What do you say, guys?
Now let's talk about the interior and ambience of Jaipur choupati .
Interior and Ambience of Jaipur Choupati
When we plan outings and dinner dates with our loved ones, the environment, surrounding and ambience of the place matters a lot. It is one of the first things that comes to our mind.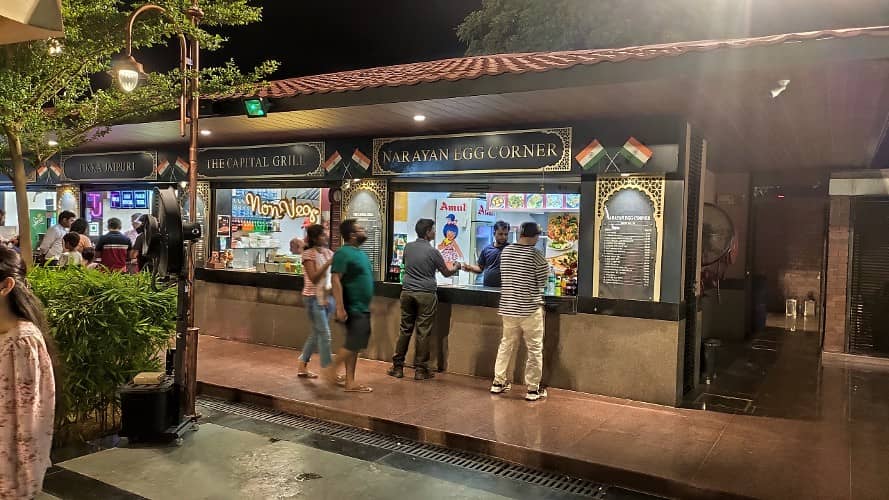 Ambience can either make your day or break your day. Isn't it?
When it comes to Jaipur chowpatty, trust me it won't disappoint at all.
Read: Awesome Diwali Places in Jaipur
The entrance of Jaipur Choupati is graced with beautiful plants and different lights.
As soon as you enter you will see a selfie point of Jaipur Choupati with amazing stone architecture in the background. So don't forget to take some amazing pictures with friends and family 🙂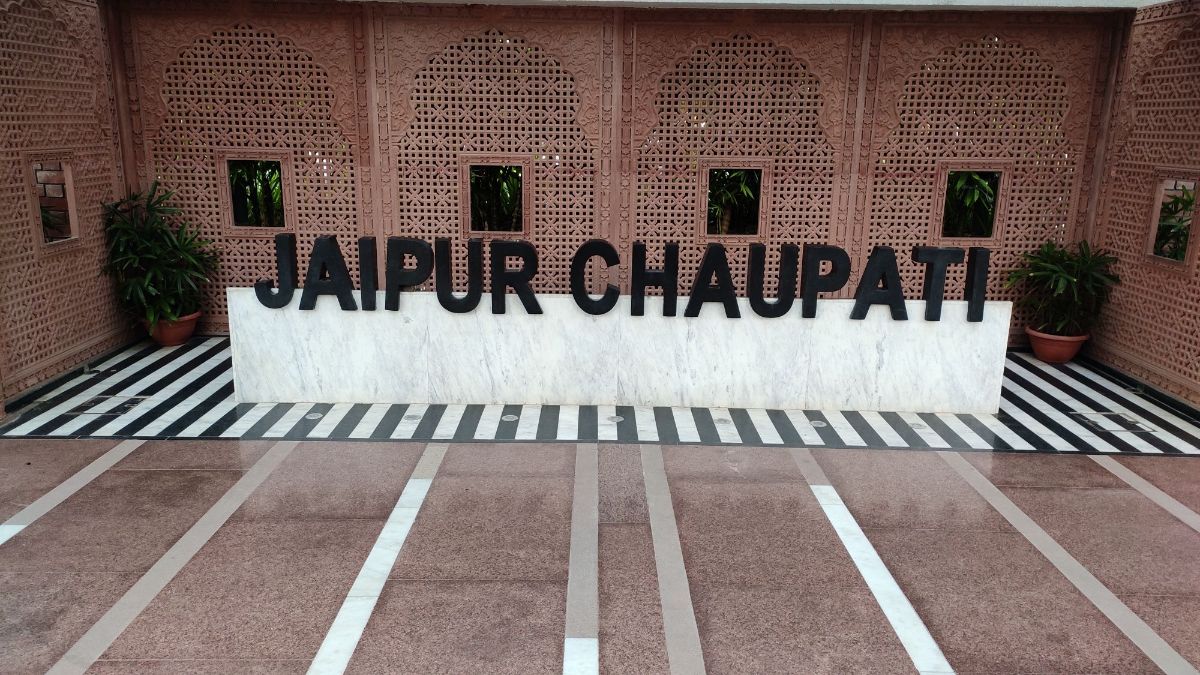 While you move further you will find an open food court decorated with trees, lights, fountains and an orchestra stage.
In the center, you can find a spacious sitting area . On all three corners, there is an array of different stalls offering a variety of street food.
Now let's come to the main topic which is food 😀
Read: Jaipur to Bisalpur Dam Journey
Varieties of Food Jaipur Choupati Offers
The 28 stalls of Jaipur choupati offer a wide variety of national and international street food. Every shop has a range of different cuisines.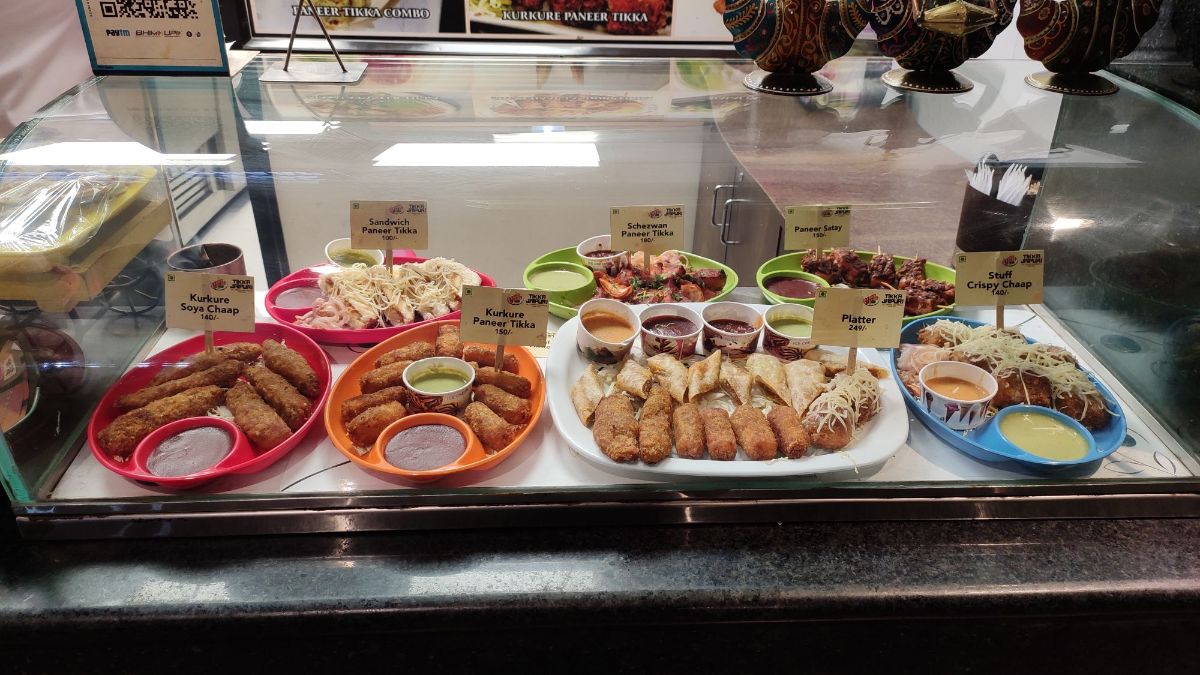 Punjabi, South Indian, Rajasthani, Gujarati, Italian you will find different sorts of food. Dishes like Chola-Bhatura, Chili Chat, Spring Rolls, Paneer Tikka, Matka Kulfi are must to try here.
Jaipur Choupati also offers different varieties of drinks and beverages starting from kesar dudh, lassi, juices, shake, faluda, chai, coffee and the list goes on.
I know now you can't wait to visit Jaipur choupati.
Read: Jawahar Circle Park
Food Shops at Jaipur Choupati, Pratap Nagar
Every food booth at Jaipur choupati provides unique flavors of food to satisfy your appetite.
You can find some famous food and snacks brands such as Narayan Ji gajak Wale, Narayan Egg Corner, J. Oberoi Sweets etc at the Jaipur Chopati.
At the chopati, there are some new food startups too that offer budget-friendly food options. You should definitely give them a chance.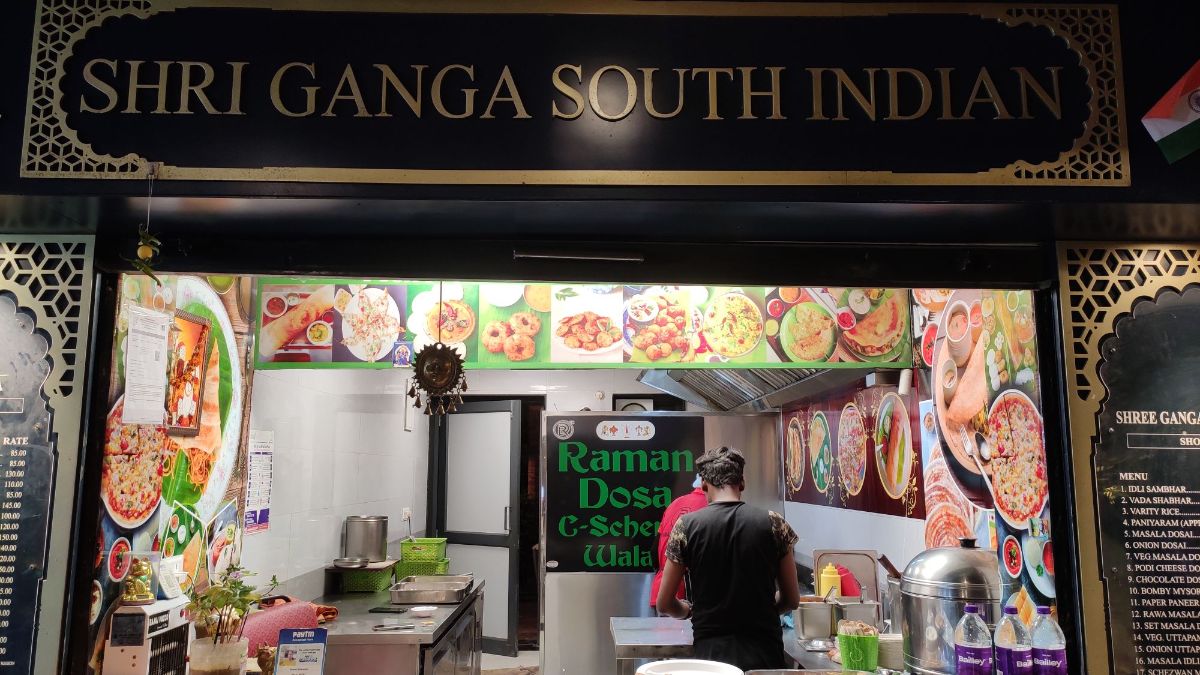 Below is the list of all the stalls with their names:
Red Peppers
Rama krishna Paratha
The Taste Of South
Teekha Swad
Hare Krishna Jain Food
Temptations
Milk Bars
Bajrang Juice and Ice Cream
Brijwasi Faluda IceCream
Coffee at Statue Circle
Ananda Prada
Shri Ganga South Indian
K-tali Pizza Pasta
Tiwari Chaat Bhandar
Radhe Krishna Chahat
Samrat
Bombay Chowpatty
Kalkatta Chat Bhandar
G-9 Ice Cream and Shake 19
J. Oberoi Sweets
Narayan Ji gajak Wale
Rajasthan Dhaba
J.M.D Bakers & Fast Food
Bhavya Govindam
Sam's Kitchen
Tikka Jaipuri
The Capital Grill
Narayan Egg Corner
28 food shops to eat from at one place! Isn't it great?
Jaipur choupati will surely give the feel of high-end restaurants at affordable prices.
Read: Best Tourist Places Near Jaipur
My Experience of Visiting Jaipur Choupati
I visited Jaipur choupati a few days back. The first thing that impressed me was the aura at the entrance.
The wide clean roads are adorned with sparkling lights on both sides of the road and greenery all around the place.
In front of the entrance of Jaipur Choupati there was a beautiful stone archway where people were capturing pictures with friends and families.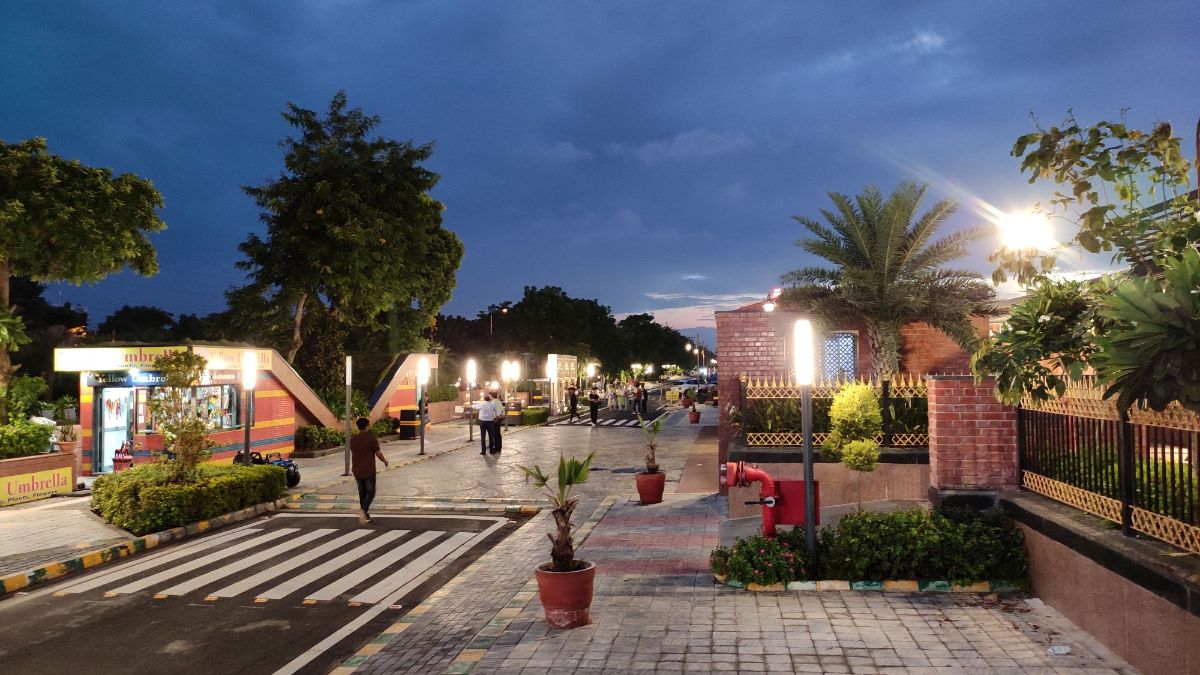 I visited in the early evening so there was enough sitting space.
The orchestra was just about to start. I really enjoyed 90's songs performed by the band thejaipurdreams8.
The host Khushi Maheshwari was amazing and very kindly accepted the requests from the crowds for announcements and songs.
Delicious Food That I Ordered
It's difficult to choose a few dishes from a vast variety but after a long thought, I decided to order:
Chole Bhature – Forgot the shop name – The taste was good.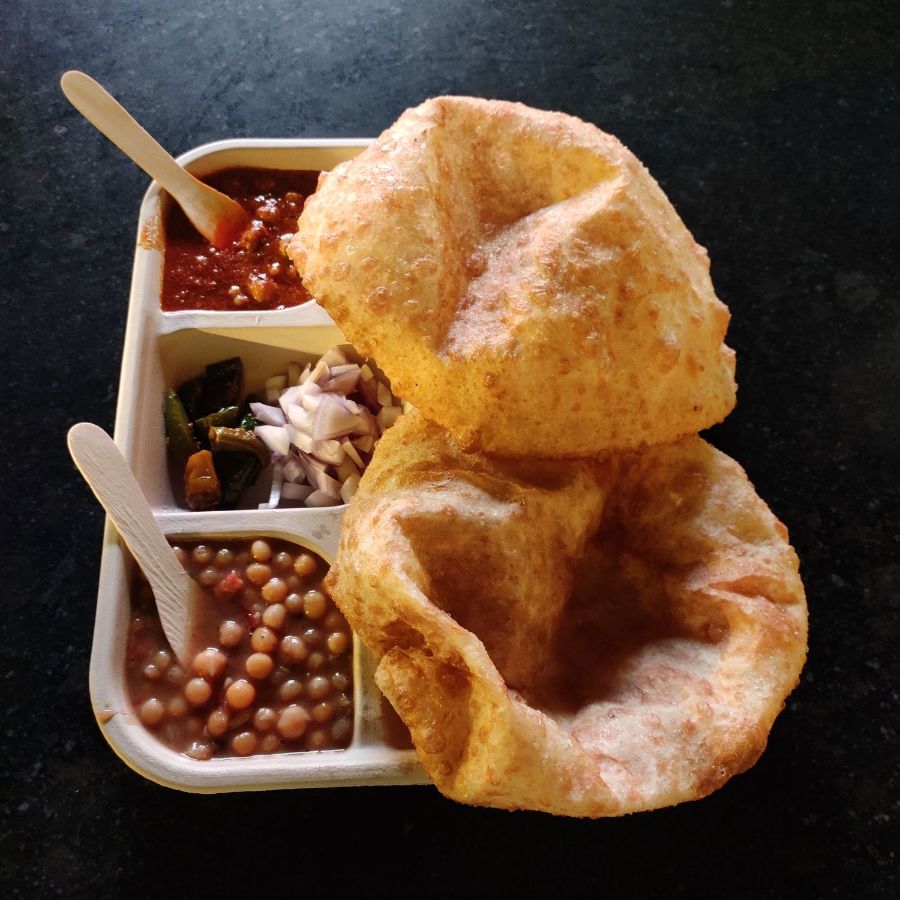 Red Pasta – From shop no.13, K-tali Pizza Pasta – The taste was ok.
Idli sambhar – From shop no 12. Shri Ganga South Indian – The taste was fine.
Kolkatta Dahi Vada Chaat – From shop no.18, Kalkatta Chat Bhandar. The taste was amazing. You should definitely give it a try.
Spring Rolls – From shop no. 26, Jaipuri Tikka – The taste was good.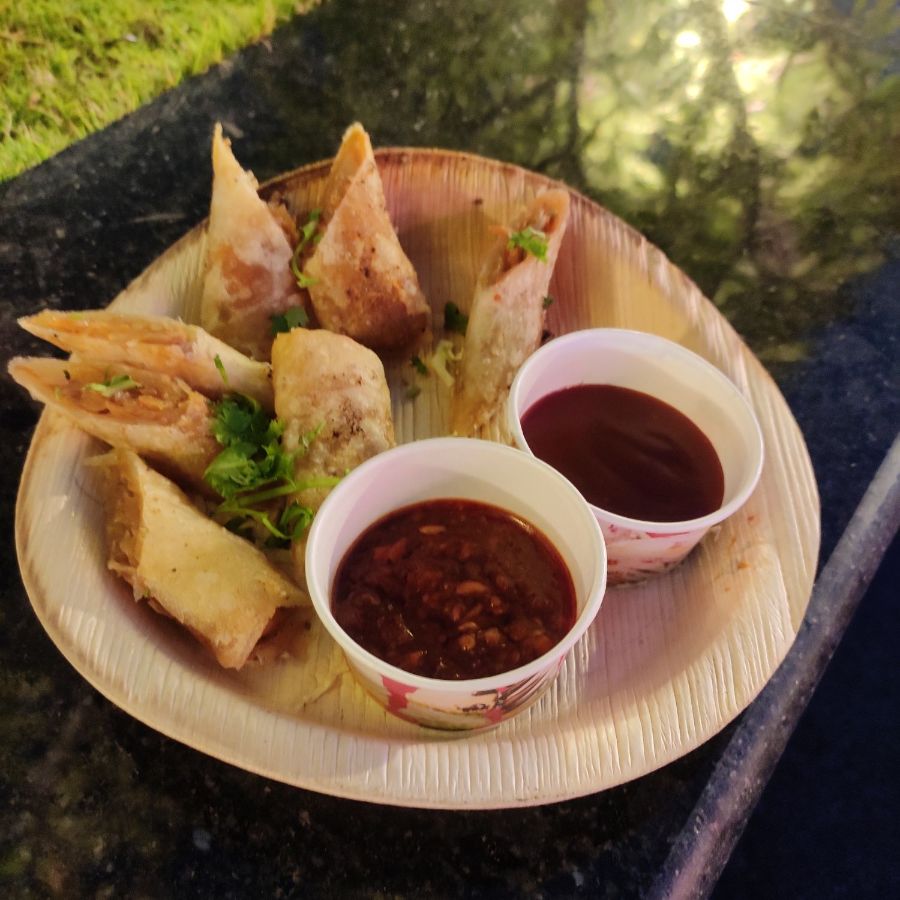 Mango and Kesar Pista Kulfi – From shop no.19 – G-9 Ice Cream and Shake – The kulfi was mouth watering.
How To Reach Jaipur Choupati, Pratap Nagar?
You can reach Jaipur Choupati by bike or car within 15-20 minutes if you are living near Pratap Nagar, Malviya Nagar & Jagatpura area.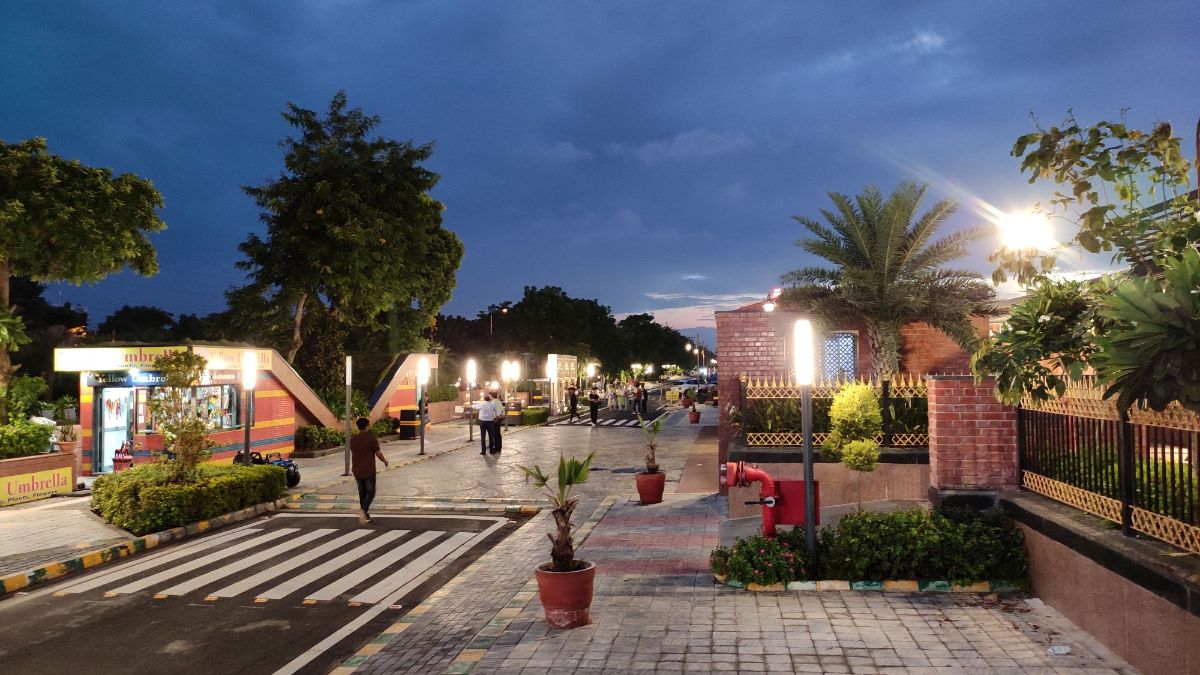 If you live in areas like Vaishali Nagar, Bhankrota, VKI, Vidhyadhar Nagar then you have to plan well as the distance to chopati from these areas ranges from 15-25 Kms. In the evening, you might face a lot of traffic to reach here from these areas.
You can also take a taxi or cab to reach Jaipur Choupati.
| | |
| --- | --- |
| Distance from Jaipur Airport Sanganer | 10.1 KM via NH52 |
| Distance from Durgapura Railway station | 10.6 KM via Jagatpura Road |
You can also search Jaipur choupati near me on Google Maps, it will show you two chaupatis (Mansarovar and Pratap Nagar) choose Jaipur Choupati in Pratap Nagar and reach here.
Best Time to Visit Jaipur Choupati
The Best time to visit Jaipur choupati is between 6 PM to 11 PM. If you are planning your visit to Jaipur choupati at the weekend, I would suggest reaching there in the early evening because the place is more crowded on weekends.
Jaipur Chowpatty, Pratap Nagar Address
Pratap Enclave, Pratap Nagar, near NRI colony Jaipur, Rajasthan 303906
Read: Best Restaurants in Kota
Jaipur Chaupati Pratap Nagar FAQs
1. Which Jaipur Chaupati is best?
There are two newly inaugurated Jaipur Choupatis, one is in Pratap Nagar and the second is in Mansarovar. Both are nice. You can choose to visit either one but Mansarovar Jaipur Choupati is more crowded, especially on weekends.
2. What is Jaipur Chaupati?
Jaipur choupati is an open-air food court developed and managed by Rajasthan Housing Board.
3. When was Jaipur Chaupati built?
4 December 2019
4. How many stalls are there in Jaipur Chaupati Pratap Nagar?
There are 28 different stalls.
5. Who manages Jaipur Chaupati Pratap Nagar?
Jaipur Choupati is developed and managed by Rajasthan Housing Board.
I hope that the article will solve all your queries related to Jaipur Chaupati in Pratap Nagar.
If you like the article or have any suggestion, comment below.
Have a great day!
Before you go, watch this beautiful video about Jaipur Chopati.