Are you planning for the most memorable Udaipur vacation? Is you excitement is high? Great!
Your bags are almost ready but still confused about the best places to visit in Udaipur.
That is the case with thousands of people.
But you don't worry! I am here to help you.
I have prepared an awesome Udaipur tour guide that will help you plan a memorable Udaipur vacation.
Little bit about Udaipur
Udaipur is one of the most beautiful cities in Rajasthan covered by Aravalli Hills.
City of lakes Udaipur is the inclusion of enormous palaces, ancient forts, mesmerizing lakes, dense green gardens and temples.
Not just that Udaipur is also famous for its romantic sights and rich heritage which make it a center of attraction for travelers all over the world.
Now let's move forward to plan your best Udaipur travel.
When can you visit Udaipur?
It is important to know about the right time to visit Udaipur so that you can enjoy your trip at fullest.
Summers:
Summers in Udaipur start from March to June. The weather is quite extreme during this time. The temperature varies from 40 degrees to 45 degrees Celsius.
Due to the off-season, budget travellers can find some good tour and travel deals and low prices for hotels and restaurants.
Monsoon:
You can also plan a visit to Udaipur during monsoon time which is from July to September.
Though the city does not witness heavy rainfall but the Aravalli Range of mountains turns green and you can experience some beautiful scenic views in pleasant weather during monsoon.
Winters:
The best time to visit Udaipur is in winter from October to February. The temperature varies from 12 degrees to 30 degrees Celsius.
This could be the perfect time for travellers to explore the beautiful sights of the city. Due to peak time for tourists and travellers, it would be a smart move to book your hotels or stay early.
How can you reach Udaipur?
To reach Udaipur mainly three options are available
Airways:
Maharana Pratap Airport also known as Dabok Airport situated 22 km east of the city could be the easiest way to reach Udaipur. The airport is connected to other metro cities like Mumbai, Jaipur, Jodhpur, Kolkata, Delhi and others.
Roadways:
Buses can be the next convenient option to reach Udaipur. RSRTC and other travels provide many options for a/c and non-a/c buses which you can choose from.
Railways:
Travellers can also reach Udaipur by train. Direct train services are available from different cities. You can check the IRCTC website for more information.
Where to find good hotels in Udaipur?
Depending on your budget many hotels are available in Udaipur to stay. The hotels can be slightly costly in Udaipur compared to other cities of Rajasthan due to high demands during winters.
The budget hotels can be found in the interiors of the city near the city palace which may range from ₹ 1500 – ₹ 2000 a day.
Mid-range hotels may cost you around ₹1600 – 5000 a day and for those who are seeking luxury, the hotels' costs may start from ₹ 6000 to upwards.
Where to eat in Udaipur?
From mini restaurants to high-end restaurants both arelocated at the banks of lakes,many food options are available in Udaipur.
You can also lookout for street food stalls for breakfast which are usually present outside the famous tourist places in Udaipur.
You must give a try to Rajasthani Thali and Rajwadi Chai in Udaipur which is very famous and delicious.
The rooftop restaurants with the breath-taking view of lakes can instantly make your day in Udaipur.
I have some recommendations:
Lotus cafe
Udaipur View
Sunset View Terrace
Ambrai
Jaiwana Haveli
10 Best Places You Must Explore in Udaipur
City Palace: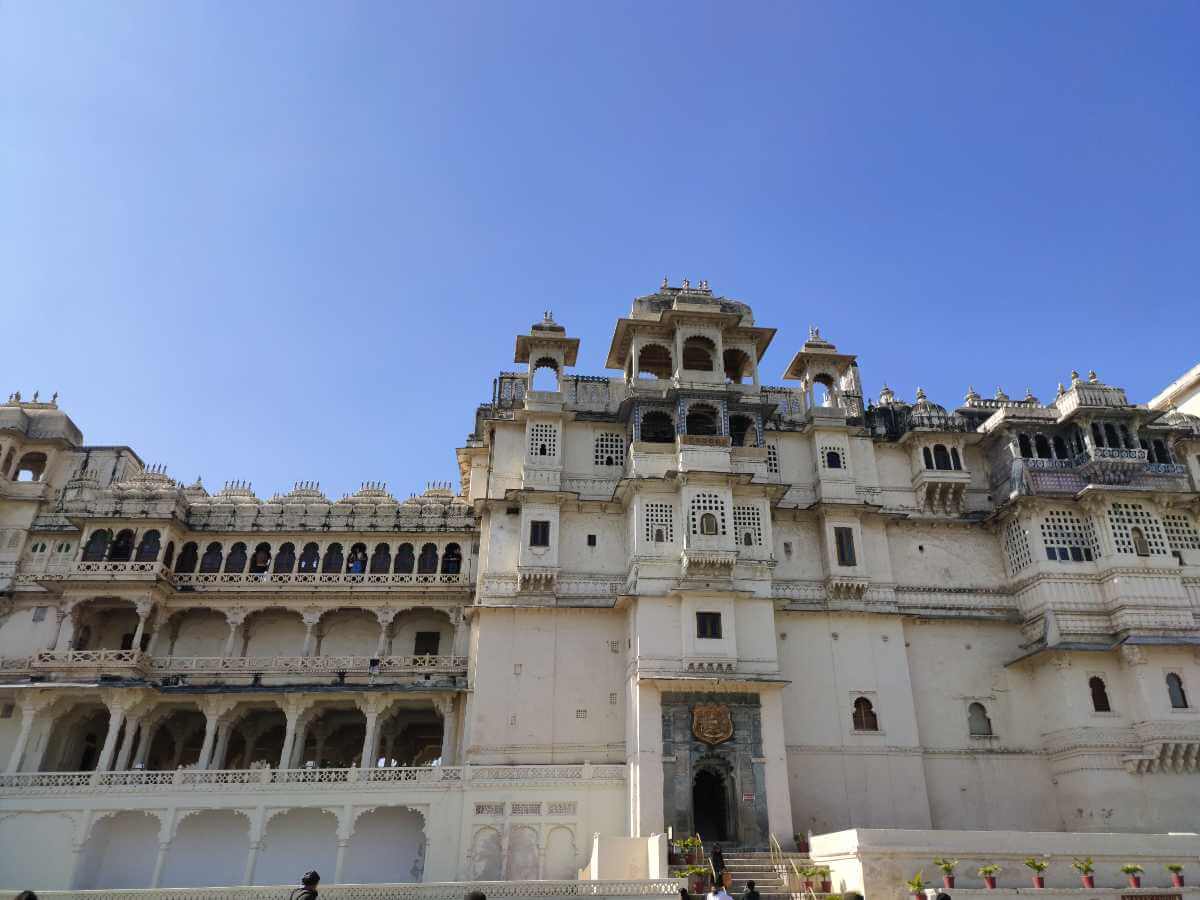 Situated on the bank of Lake Pichola, City Palace is one of the most wonderful examples of Rajasthan's history, royalty, art and architecture. City Palace is considered as the largest palace of Rajasthan. It has other 11 small palaces constructed from granite and marble.
The interiors are as beautiful as exteriors consisting of mirror works, paintings, silver- works, marble works on the walls and coloured glasses on the windows and doors which makes it a worth visiting place in Udaipur.
You can hire a guide at the city palace which may cost you from 200 to 300 INR.
Entry fee
₹ 30 for adults
₹ 15 for children (5- 18 years of age)
Museum
₹ 300 for adults
₹ 100 for children (5- 18 years of age)
Camera charges
₹ 250 for still camera
₹ 500 for video camera
Parking
₹ 300 for car
Timings
9:30 AM to 5:30 PM
2. Lake Pichola :
Lake Pichola is the oldest artificial lake of Udaipur consisting of 4 islands jag mandir, Mohan Mandir, Jag Niwas and Arsi Vilas. The shimmering Lake Pichola is a most calming place in Udaipur which gives beautiful views of nature and palaces.
In the mornings the place is less crowded so it could be a great option to start your day with chai and poha on the lakeside.
Boating in Lake Pichola could be the most memorable experience and is highly recommended.
Boat Rides start at 10 a.m till 5 p.m in the evenings.
Boating Charges may vary between ₹ 200 to ₹ 400 for Adults and ₹ 200 for children in the mornings depending upon the type of boat you choose.
The Lake give mesmerizing view during sunset. Hence boating is expensive in the evenings compared to mornings.
3. Fateh Sagar Lake:
Another pride Udaipur upholds is Fateh Sagar Lake. The place is a perfect combination of the hills, water and flora which makes it the most beautiful treasure of nature.
The Best time to visit Fateh Sagar lake is in the evening.
The lake has three islands Nehru Garden, Public Park where you can enjoy some fun activities and the last one is Udaipur Solar Observatory which you can explore through boats.
You can enjoy food, coffee and boat and camel ridings at Fateh Sagar Lake.You can also explore Maharana Pratap Memorial situated on Pearl Hills and Under the Sun Aquarium which has 150 different species of fish.
Boat Rides Prices are mentioned below:
Simple Boat rides may
₹ 15-30 for adults
₹ 60- 125 for foreigners
Motor Boat
₹ 200 for adults and ₹ 100 for children
Speed Boat
₹ 200
Timings
8:00 a.m to 4:30 pm
4. Saheliyon ki Badi: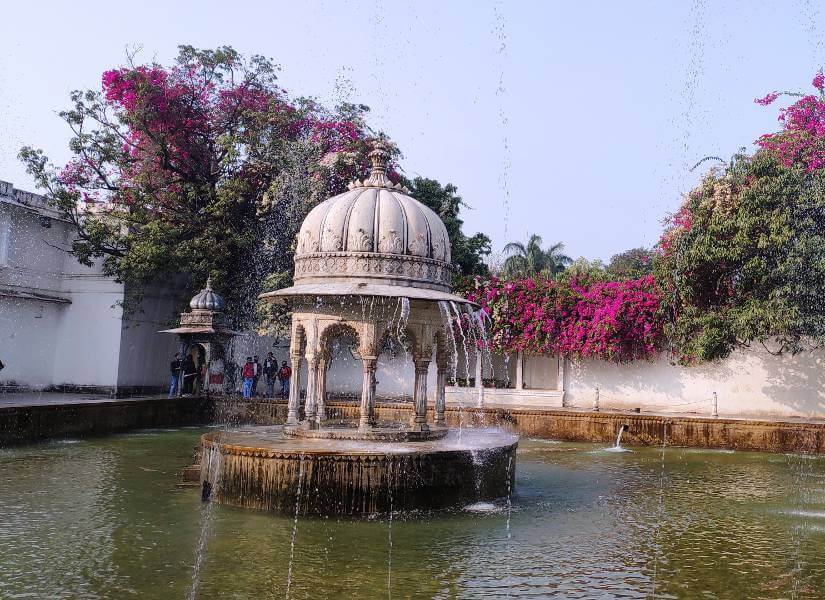 Saheliyon ki Badi is another excellent example of Rajasthan's ancient architecture. It is said that the place was built by Maharana Sangram Singh for himself and later was gifted to his queen and her 48 maidens.
This place is adorned with lush green gardens, fountains with water pools and a kiosk made up of white and black marbles. All together creates a pleasing and romantic ambience as soon as you enter through the gates.
The place also has a small museum showcasing a collection of royal households. If you are a photography enthusiast this place is worthy of providing you with some amazing pictures.
| | |
| --- | --- |
| Timings | 9:00 am to 7:00 p.m |
| Entry charges | ₹ 10 for Indian Visitors ₹ 50 for foreign Visitors |
5. Karni Mata Temple:
Shri Mansapuran Karni Mata temple is located in Machala Hills Near Din Dayal Upadhyay Park.
You can reach the temple either by stairs or ropeway route which will cost you around 117 to 250 for two-way travelling.
It should be the must visiting place on your list while travelling to Udaipur. The charismatic view of the city and lakes are visible from the top of the temple. The spiritual environment red sky during sunset will make your visit worthwhile.
6. Jagdish Temple:
Situated in the centre of the old city of Udaipur, the Jagdish Temple is dedicated to Lord Vishnu.
Due to its architectural beauty and historic importance, it is the center of attraction for the tourist. The temple is built on 50 pillars engraved with different breathtaking artworks.
The temple is open for all visitors, there are no entry fees. The temple opens mainly two times a day first in the morning from 4:15 a.m to 1:00 p.m and the second time from 5:15 p.m to 8:00 p.m.
7. Sajjangarh Palace:
Sajjangarh Palace is 10 km away from the main city. It is located on Banasdara Hill. It was built by the Mewar king Maharana Sajjan Singh.
Sajjangarh Palace is also named "Monsoon Palace". It was the partial residence of the royal family during the monsoon season to enjoy witnessing the beautiful greenery, natural setup around the Palace and monsoon clouds.
If you are a history enthusiast and a nature lover this could be a worth visiting place to spend your evening.Watching the sunset and sky painted red and orange creates a beautiful scenery. I am pretty sure, you will love this.
There is also a wildlife sanctuary at Sajjangarh Palace which you can visit and enjoy with your family and kids.
| | |
| --- | --- |
| Timings | 8:00 a.m to 6:00 p.m |
| Entry Fees | ₹10 for Indian Visitors ₹ 80 for foreigners |
8. Bagore ki Haveli:
Bagore ki Haveli is situated on the bank of Lake Pichola at Gangore Ghat.
It was built by Shri Amarchand Badwa in the 18th century.
This brilliant piece of architecture has 138 rooms whose walls are beautifully portrayed with the mural and fresco paintings and artworks of that time. The haveli has an array of balconies, big courtyards, jharokhas and fountains.
The haveli also has a museum which depicts the royal lifestyle which you can explore. The traditional dance and music show Dharohar is also organised at haveli in the evening starting from 7 p.m.
| | |
| --- | --- |
| Museum charges | ₹ 60 for adults ₹ 30 for children |
| Camera charges | ₹ 50 |
| Cultural Event | ₹ 50 |
9. The Ghats:
The two most famous ghats in Udaipur are Gangore Ghat and Ambrai Ghat. These could be the perfect places to relax in the evening with your loved ones.
At night when everything lights up gives you a magical and romantic ambience. You should visit these places after dinner or for long walks.
If you are looking for some great instagramble pictures , this is a perfect place for you.
10. Shopping in Udaipur:
Well, for all our lovely ladies travel is always incomplete without shopping.
So, if you love shopping Udaipur can offer you some beautiful handicrafts, Rajasthani print materials like (bandhani and lehariya prints), juties, silver jewellery and Rajasthani miniature paintings. Places you and visit for shopping are mentioned below :
Final Thoughts:
The words will always fall less to describe the beauty of Udaipur. Last but not least I have tried to cover all the information I could think of. I hope this blog helps you in planning your trip to Udaipur. If there is anything else I can help you out with, please comment below. I would love to hear from you.