Are you one of those who loves traveling and exploring new places? Great!
But tired of those crowded tourist attractions and looking for some offbeat travel experience?
Then my friends! Bundi, a small city in northern Rajasthan could be a great place to satisfy your offbeat travel hunger.
Bundi is well known as "Choti Kashi" in Rajasthan. It was named after ruler Bunda Meena.
Bundi city is famous for its historical sights, palaces, step-wells, cenotaph, lakes and miniature paintings.
Along with that, Bundi city is covered with a green lush Aravali range of mountains and greenery.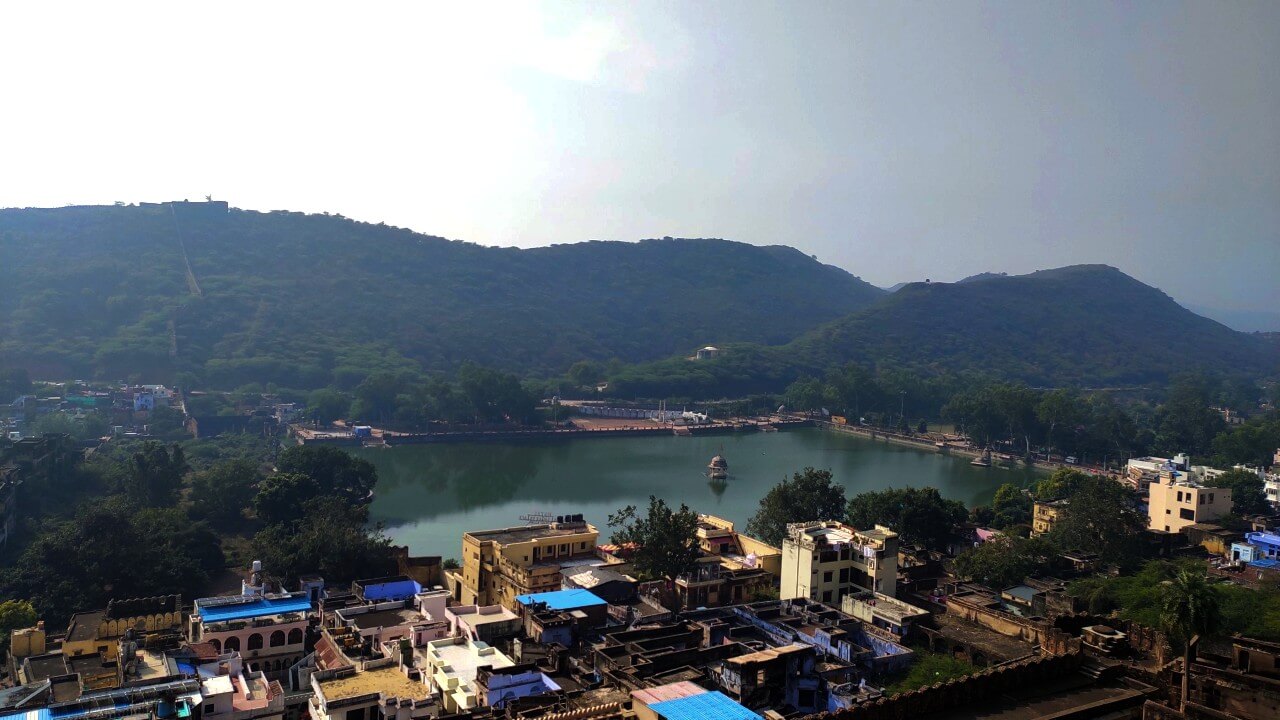 Thankfully, I chose the right time to visit Bundi which made my travel experience more pleasant.
Are you wondering, what could be the best time to visit Bundi?
Let me share my experience with you all, which will surely help you plan your visit to this charming city of Rajasthan.
What is the Best time to visit Bundi?
Rajasthan is a landlocked state and like most of its other cities, Bundi's climate during the summers is very hot and humid. During summer the temperature varies between 35 to 47 degree Celsius.
The best time to visit Bundi is from October to February when the climate remains pleasant.
I visited Bundi in the depths of winter. The weather during winter is very delightful. The temperature varies between 5 to 20 degrees.
Now, let's begin our virtual tour of Bundi.
Which are the amazing places to explore in Bundi?
A British writer wrote about Bundi "Deliciously behind the time."
While exploring the city I felt the same.
It gave me the feeling that I have moved way back in time. Bundi still gives you the vibes of old and traditional Rajasthan.
1. Garh (Gadh) Palace
Garh palace is a magnificent piece of Rajput architecture and unmatched artwork.
This beautiful place gives a glimpse of the glorious history of Rajputana.
The palace was constructed by Rao Raja Ratan Singh in 1607, and then many other palace complexes were built by other successors inline.
Most parts of the palace were built during the 17th and 18th centuries.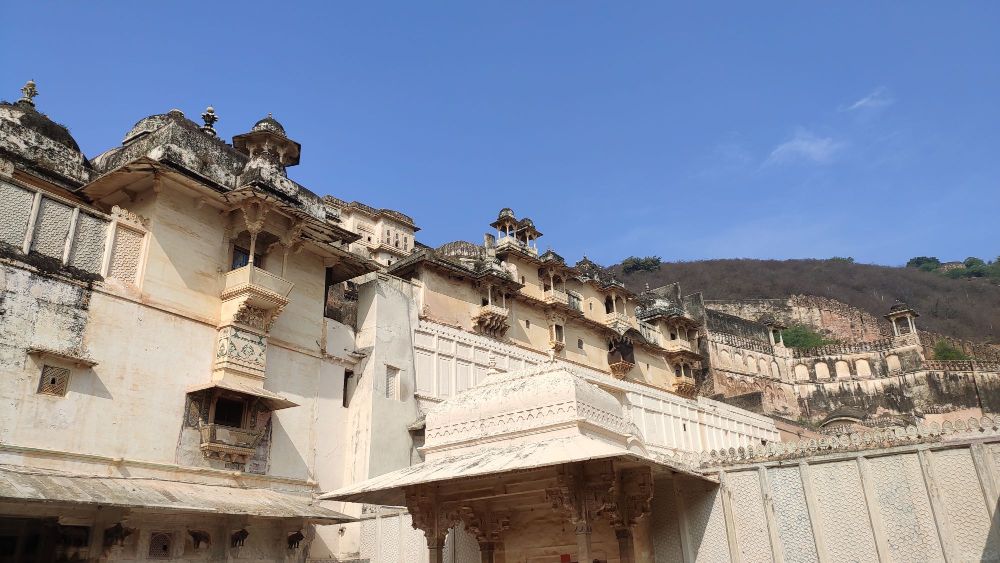 The place has a huge entry gate named Hathi Pol. The beautiful stone carvings and elephants welcoming above the gate will make you awestruck.
As soon as you enter the gate the beautiful walkway surrounded by green gardens will lead you to the different parts of the palace.
First comes the Ratan Daulat. It is a hall of the audience which has several engraved pillars and a white marble coronation throne.
Badal Mahal, Phool Mahal, and Chattar Mahal are the other places which are adorned with some of the finest wall paintings, amazing mirrors and stone artworks on pillars.
2. Taragarh Fort
Taragarh fort is located just above the Garh Palace at a height of 500 meters. It is one of the oldest forts in Rajasthan.
Bundi's Taragarh fort was built in 1354 by the ruler Raja Bar Singh Ji.
Taragarh fort tells the untold stories of the glorious Rajputana.
Taragarh fort is famous for its ancient Rajput architecture, Chitrashala and mesmerizing natural view.
3. Chitrashala
Chitrashala of Taragarh fort is an excellent example of a world-famous Bundi-style painting. The walls and ceilings of the hall are completely decorated with the finest Bundi-style painting.
The Bundi-style of paintings started developing during the 16th century.
Hunting senses, court scenes, the life of royals, festivals, lovers, animals and birds were portrayed in the form of paintings.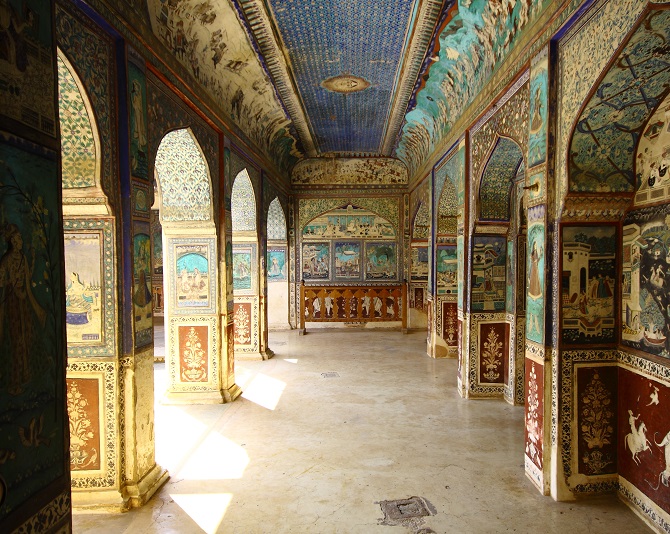 During that time most states of Rajasthan were under Mughal rulers.
Hence due to Shah Jahan's influence, the Mughal style of art and painting developed immensely during the period of Rao Madho Singh.
Things to keep in mind while visiting Garh Palace and Taragarh Fort
You are not allowed to take food inside the fort.
No food shops or stalls are available inside the fort. (So, better eat before entering the fort)
Don't forget to take water bottles along.
The walkways are very steep, so wear comfortable clothes and shoes while visiting the Bundi fort.
You will find lots of monkeys on the way, just be cautious.
In total, 3 to 4 hours and lots of energy are required to explore the Garh (Gadh) Palace and Taragarh Fort.
Finally, don't forget to take a camera and tripod for taking some amazing instagramable pictures 😉
Other Details:
| | |
| --- | --- |
| Entry ticket | for Indians ₹80 per personfor Foreigners ₹500 per person |
| Timings | 9 A.M to 5 P.M |
| Address | Nahar ka Chauhatta, Bundi, RajasthanPin: 323001 |
---
Also Check Out This Fantastic Udaipur Travel Guide
---
4. 84-Pillared Cenotaph
84- Pillared Cenotaph is another world-famous heritage and architectural wonder gifted to the city of Bundi. It was built in 1683 by Rao Raja Anirudh Singh Ji in memory of Dhabhai Deva.
It's a two-story building standing on 84 pillars. The whole structure of the cenotaph has amazing stone figures on the arches around the umbrella of elephants, horses and other animals.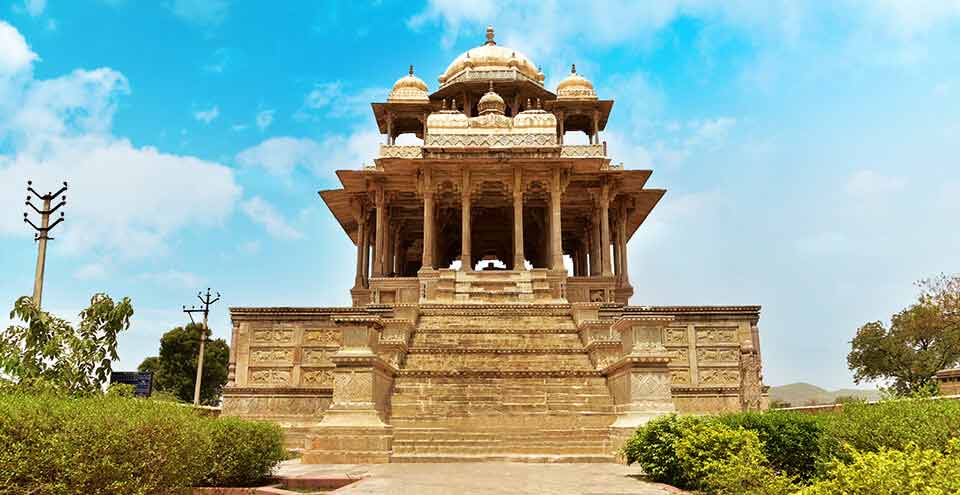 On the ceiling of the umbrella, there is mesmerizing stone artwork which includes sculptures of nymphs and musicians along with musical instruments.
These amazing pictures leave a deep impression on everyone's heart.
5. Sukh Niwas Palace
Sukh Niwas is a beautiful palace in Bundi situated at the edge of Jait Sagar lake. The palace has a huge garden inside which was built in 1773 by Rao Raja Vishnu Singhji.
It is an excellent example of Rajput structural design.
The whole palace is adorned with carved pillars and balconies.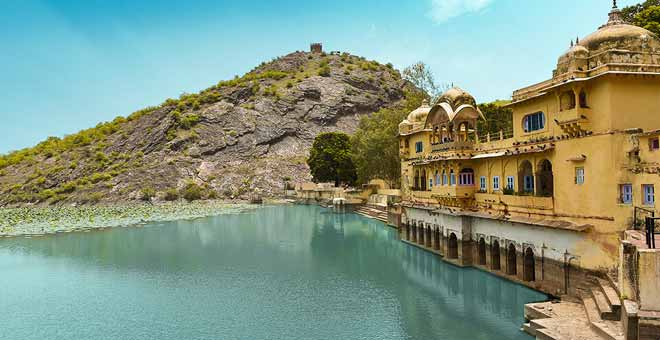 The walls and ceilings are decorated with paintings from the Bundi school.
Another interesting fact about this palace is that the famous English Poet and Novelist Rudyard Kipling stayed in Sukh mahal while writing' Kim' and "The Jungle Book".
Entry Ticket
for Indian ₹30
for foreigners ₹350
Timings
9 A.M to 5:00 P.M
Address
MDR52, Teerath, Bundi
Visit Bundi's stepwells
Bundi city is also called the "city of stepwells". It has around 71 different stepwells, some of which are very famous for their amazing architecture.
If you get the chance to visit Bundi then don't forget to explore Raniji ki Bawadi and Dabhai Kund.
1. Raniji ki Bawadi
Raniji Ki Bawadi was built in 1699 by rani Nathawati Ji to fulfill the water requirements of the city.
It is 46 meters deep and has 50 steps.
At the entrance, it has three huge arch-shaped gates. The stone artwork of the gates is worth observing. Above the gates, it has a stone structure of elephants facing each other.
The four pillars in the front of the stepwell depict beautiful sculptures and stone carvings.
This place also has a beautiful garden where you can relax and enjoy with your family.
Other Details:
Entry Ticket
for Indian ₹50
for Indian students ₹5
for foreigners ₹200
for foreign students ₹20
Combo Ticket
₹75 from which you can visit Raniji ki Bawadi, Sukh Mahal, 84 Pillared Cenotaph.
Timings
9 A.M to 5 P.M
2. Dabhai Kund
Dabhai Kund is a stepwell situated near Raniji Ki Bawadi. It was created in the 16th century. It is another top tourist attraction in Bundi due to its amazing architecture and historical importance.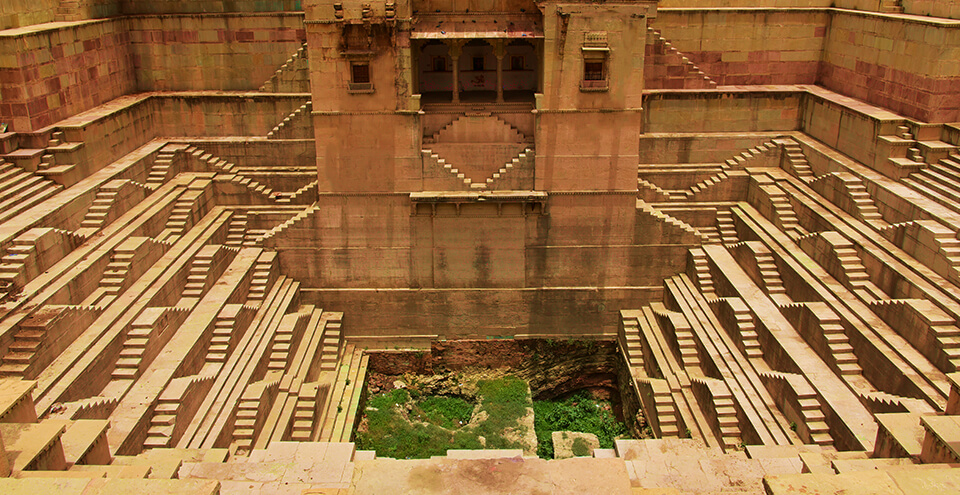 It has several staircases in all directions which will lead you down to the water levels. The magnificent stone carvings and artworks at Dabhai Kund are surely a delight to the eyes.
The adventure trip to Bundi doesn't end here.
Picture abhi baki hai mere dost 😀
Other Things to do in Bundi
There is so much more you can enjoy in Bundi apart from visiting heritage forts and ancient monuments.
Here are some other things you can enjoy during your trip to Bundi.
Walk through the old city
Walking through the old city and markets of Bundi will give a close glimpse of the lifestyle and traditions of the people living here.
Old heritage buildings, blue-painted traditional houses and beautifully decorated house doors in Bundi are worth observing.
You can also enjoy conversation with locals who might share some amazing untold tales of the city.
Walking through the narrow streets of Bundi will surely make your trip memorable.
Shopping Bundi's Miniature paintings
Bundi is famous for its Rajputi-style miniature paintings which are called Bundi kalam.
While walking through the market of Bundi you will find lots of amazing shops where you can find Bundi-style paintings and portraits, old antiques and famous Kota doriya sarees.
Boating at lakes
Along with beautiful palaces, forts and heritage architecture, Bundi is also famous for its amazing natural scenic views and lakes.
There are many artificial lakes in Bundi where you can enjoy a peaceful and calm environment and certain activities like boating and photography.
Lake Jait Sagar: famous for lotus flowers.
Lake Nawal Sagar: the lake has many small submerged islands and buildings.
Lake Kanak Sagar: it is another very beautiful lake in the town of Dugari near Bundi.
Trekking
Bundi city is covered with beautiful mountains, cliffs and some very picturesque places to visit, such as the Shikar Burj.
You can enjoy adventure activities like trekking in Bundi. You can trek up or walk to these cliffs and witness some amazing panoramic views of the city.
Enjoy delicious local food
Everyone knows that Rajasthani food is world-famous. In Bundi don't forget to try local foods like aloo chaat, chai pakoda, kachori, samosa and Indian sweets.
You should definitely visit Sawariya chai house & restaurant and Krishna chai for a tea break.
Stay at heritage Hotels
There are many old heritage buildings in Bundi which are now converted into hotels.
There are many options available for all budget ranges. You can choose to stay in these heritage properties to enhance your travel experience in Bundi.
Here is a list of some famous hotels in Bundi: (Disclaimer: I have no affiliation with these hotels)
1. Dev Niwas
Address: Maaji Sahib Ki Haveli, Opp. Purani Kotwali, Sadar Bazar, Bundi, Rajasthan 323001
Phone: 08233345394
2. The Bundi Haveli Hotel
Address: 107, Balchand Padda, near Naval Sagar Lake, Bundi, Rajasthan 323001
3. Pratapgarh Haveli
Address: Bahadur Singh Circle, Police Line Road, Bundi, 322001
Phone: 08209275870
4. Bundi Inn
Address: Front of fort , naher ka chohtta, surang gate, Rajasthan 323001
Phone: 09461751314
5. Ishwari Niwas Palace
Address: 1, Civil Lines, Bundi, Rajasthan 323021
Phone: 07472442414
Final Thoughts
Bundi might not be as famous as other cities in Rajasthan but it's truly a hidden treasure.
Bundi's beautiful palaces, lakes, fantastic natural scenic views, amazing cenotaphs and stepwells in the city make it worth visiting at least once.
Would you plan to visit Bundi? If you do, I am sure this article will help you.
Or if you ever visited Bundi how was your experience?
Don't forget to share it in the comment section below.