"If you love nature, you will find beauty everywhere."

Vincent Van Gogh
So True! Isn't it?
I do believe so and I hope you will agree with that too.
If you are tired of a hectic schedule and looking for a nice refreshing break with your loved one, you don't need big holiday plans or a budget. Just being with mother nature can heal stress and provide refreshment.
I just witnessed one such wonder of nature, during my trip to Bisalpur dam from Jaipur. It is one of the most famous tourist attractions near Jaipur City.
So, if you haven't visited Bisalpur dam yet, now is the time. But before that, let's get to know a little history of Bisalpur dam.
About Bisalpur Dam
Bisalpur is a small village in the Tonk district of Rajasthan. Bisalpur is mainly famous for Bisalpur Dam, Goa like view from certain locations around the dam etc.
Bisalpur Dam was constructed on the Banas river in 1999 by the state government of Rajasthan for providing irrigation and water supply.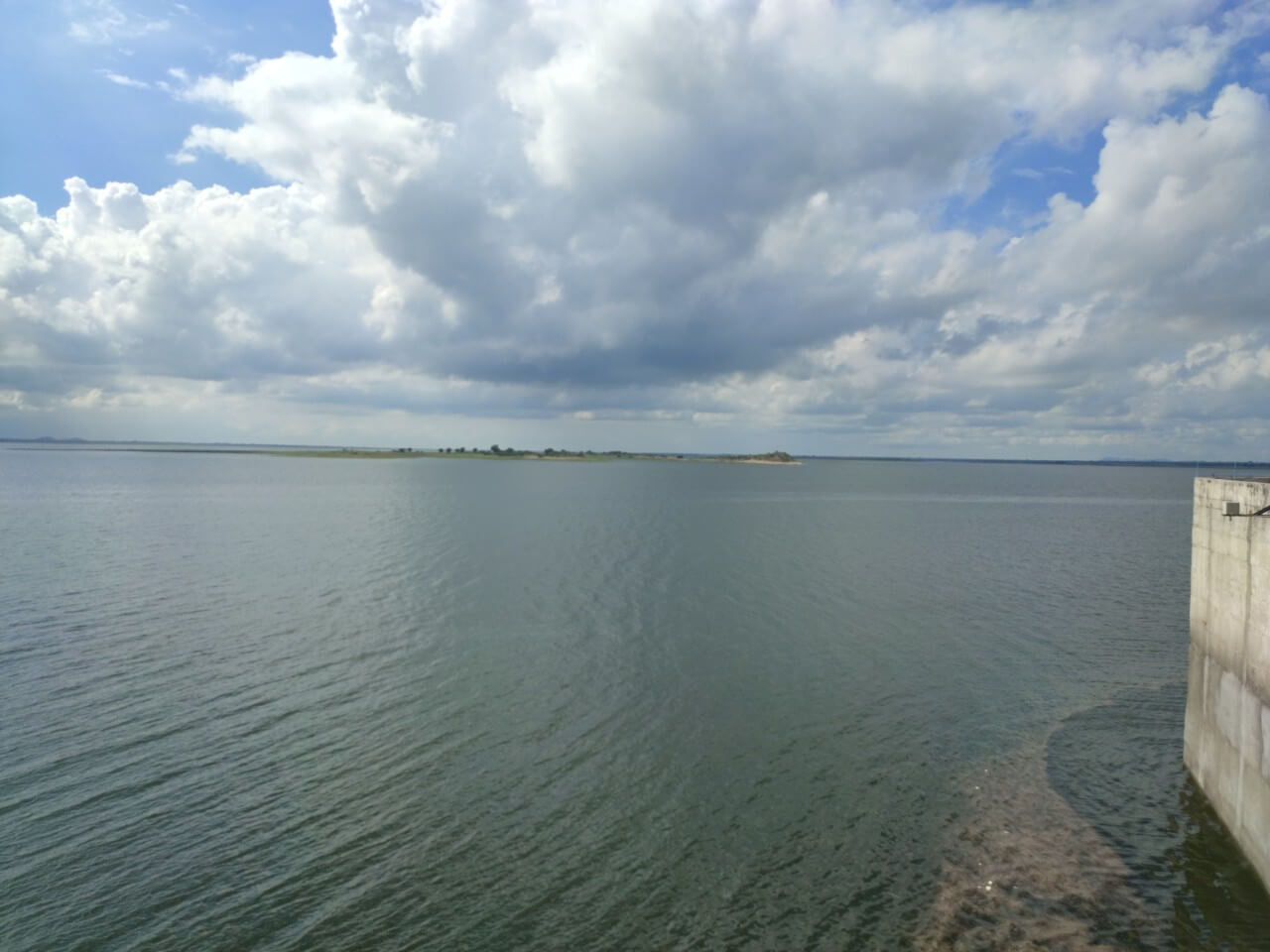 It's a huge dam measuring 574 m in length and 39.5 m in height. It has 18 gates. The current water level of Bisalpur Dam is 315.50 meters (this is the maximum capacity of the dam).
Bisalpur Dam is considered the lifeline of Jaipur as it provides drinking water to Jaipur as well as Tonk, Ajmer and Bhilwara.
Enough of the history 😉 Now let's get back to our journey.
I went in Monsoon – The Best time to visit Bisalpur Dam
The best time to visit Bisalpur Dam is during the monsoon season. At this time, the whole Aravalli range of huge mountains turns lush green. The clouds cover the mountains and the cold breeze with tiny raindrops touching your face gives you an ineffable joy. Trust me the place doesn't seem like any less than a hill station.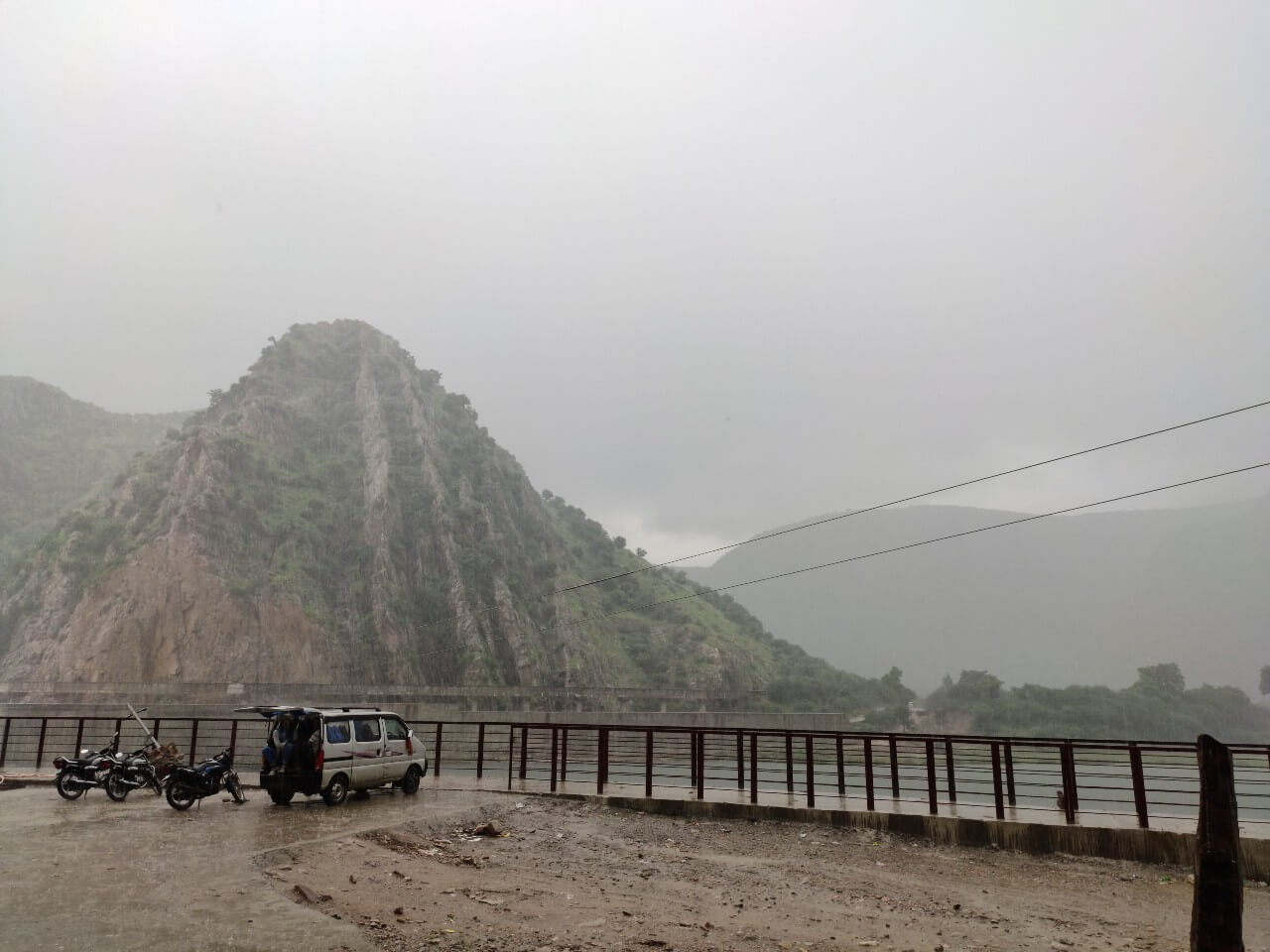 The mountains, clouds, rain and water together create a mesmerizing scenic view. You can also find some small waterfalls which are certainly a treat to the eyes.
How can you reach Bisalpur Dam?
Although I went by car, many other options are available to reach Bisalpur Dam from Jaipur. You can choose to travel by taxi, by train or you can also take a flight.
The distance from Jaipur to Bisalpur dam is 164 km (approx 3 hrs via NH52) by road which is the easiest way.
| | | |
| --- | --- | --- |
| Nearest | City | Distance from Bisalpur |
| Bus Stand | Tonk | 57 KM |
| Railway Station | Niwai | 95 KM |
| Airport | Sanganer Airport Jaipur | 155 KM |
You can also explore this beautiful place via bike or rental vehicle.
If you feel hungry during the journey then many food options are available for breakfast, lunch and dinner.
Let's talk about it.
Free parking
Lake view rooms
Breakfast
Food Options while traveling to Bisalpur Dam
Road trips are so incomplete without food. Food is not just about the taste, it is also about the moment, the location and the company.
Eating at roadside dhabas and restaurants has its own feel and charm. During my journey, I found a nice restaurant named Balaji Hotel and Restaurant.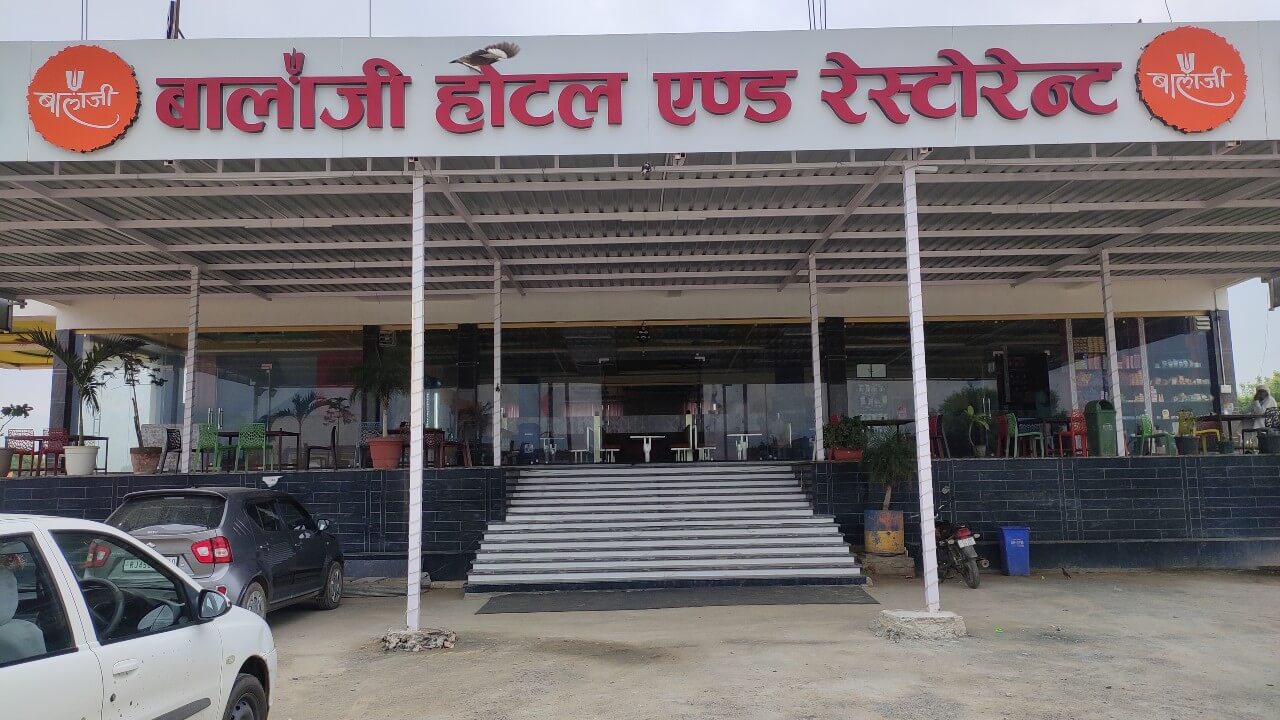 It's a nice and spacious roadside restaurant with very beautiful views of green farms.
It also has two well furnished AC halls for families. The staff was cooperative and cleanliness was up to the mark.
I ordered Alu paratha and chana masala which was served along with mixed pickle and fried chillies. The food was yummy beyond my expectation.
Balaji Hotel and Restaurant also has a huge covered parking space. You can park your vehicle without any worries even during monsoon season.
---
Also Check Out This Fantastic Udaipur Travel Guide
---
Things you can do at Bisalpur Dam
This place is a perfect mix of natural and artificial beauty. You can enjoy your picnic and day outing with a calm and peaceful atmosphere.
What else can you do apart from that?
Boating: You can enjoy boat riding with the amazing view of the mountains.
Dusk View Fish Aquarium: You can explore the Dusk View Fish Aquarium situated near Bisalpur Dam. It showcases several species of fish from all over the world.
Fish Aquarium Opening Timings:- 8:00 AM to 6:30 PM
| | |
| --- | --- |
| Activities | Entry Fee/person |
| Fish Aquarium Entry | ₹120 |
| For children | ₹70 |
| Fish Spa | ₹200 |
| VR Tour | ₹250 |
| Group Package | ₹400 |
Safety Measures to be Taken while visiting Bisalpur Dam
Keep in mind: The highway road is great until Santhali mod, after that a narrow road will take you to Bisalpur dam via Rajmahal village, the road is not in a great condition. There are big potholes at many places so drive/ride safely.
If you are visiting Bisalpur Dam during the monsoon season, wear comfortable clothes and shoes.
Do not forget to take a water bottle, umbrella or raincoat along.
You will find lots of monkeys at this place, so be careful while eating or feeding them.
If you have kids along with you, don't let them go near the water.
You might find low network coverage of mobile phones due to the hilly area. Online payment options may be an issue so do not forget to carry a little cash along with you.
Final Thoughts
My Trip to Bisalpur Dam was amazing. Trust me, it's a place worth visiting for a day out and picnic. The natural sights along the way were extremely beautiful. I felt like I was in the lap of nature. According to me, you must plan your visit to Bisalpur Dam at least once.
In this article, I have tried to cover all the aspects and information I could think of. If this article helps you in any sort of way, do not forget to comment below.
I have created a small video about my trip to Bisalpur, you can also watch this. I am sure you would like it.